Immigration law clinic steps up to meet growing need
11/13/2018

For most residents of Northeast Ohio, the situation along the U.S.-Mexico border — illegal crossings, caravans of Central American migrants fleeing persecution, children separated from their parents —seems like a world away. Elizabeth Knowles, assistant clinical professor of law at The University of Akron's School of Law, knows better.

Interview on PBS
Elizabeth Knowles, assistant clinical professor of law, is interviewed on WVIZ-TV (PBS) Cleveland's Ideastream, during which she discussed Akron Law's Immigration and Human Rights Law Clinic, and the role our law students play in meeting a growing need for asylum and refugee law counsel.
Knowles teaches asylum and refugee law and directs the school's Immigration & Human Rights Law Clinic, which she founded in July 2016. The clinic's mission is to educate and train law students in the practice of immigration advocacy and removal defense.
"There are other immigration and public-interest law clinics," said Knowles. "But not many do what we do — provide competent and compassionate pro bono defense in court exclusively for detained asylum seekers in deportation proceedings."
Funneled to Northeast Ohio
The need for these services in Northeast Ohio is much greater today than it was when Knowles came to Akron Law in the summer of 2016 from her position as executive director of the American Bar Association Immigration Justice Project of San Diego.
In January 2017, the Trump administration implemented policies that made it much more difficult for detained asylum seekers to obtain parole so that they can prepare for their removal proceedings outside of detention. U.S. Immigration and Customs Enforcement (ICE) now detains about 400,000 non-citizens annually, housing them in a network of more than 350 detention facilities nationwide.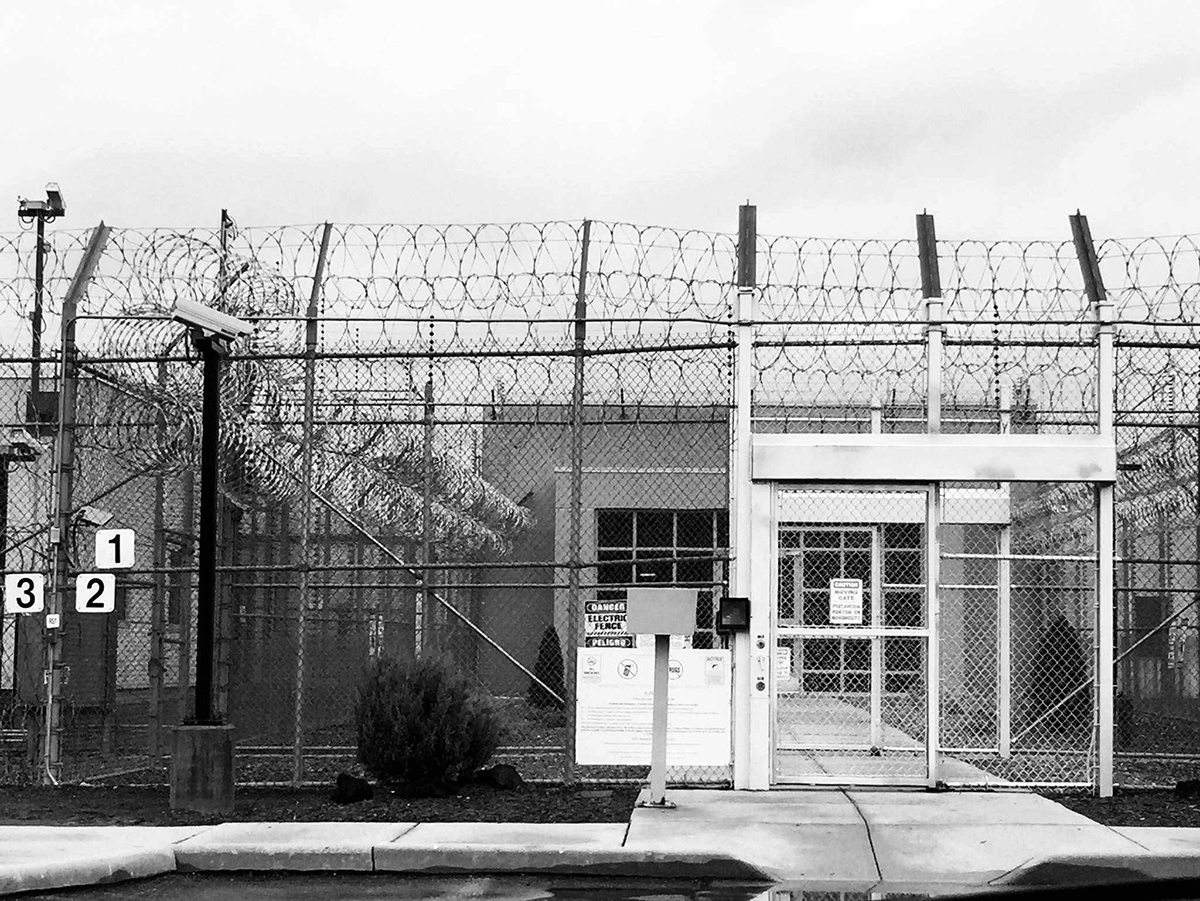 UA students from the Immigration law clinic enter this gate at the Northeast Ohio Correctional Center in Youngstown to meet with their asylum-seeking clients.
Most of the detainees are now funneled to large, privately owned prisons across the country, including the Northeast Ohio Correctional Center (NEOCC), a medium-security facility in Youngstown. There the detained asylum seekers will have their "credible fear" interview. If they pass, they will be scheduled for removal proceedings at the Cleveland Immigration Court. The detained asylum seekers participate in the proceedings via televideo from detention at NEOCC, not in person. About 300 ICE detainees are held at NEOCC at any given time, with another 50 or so at the Geauga County Safety Center jail in Chardon, according to Knowles.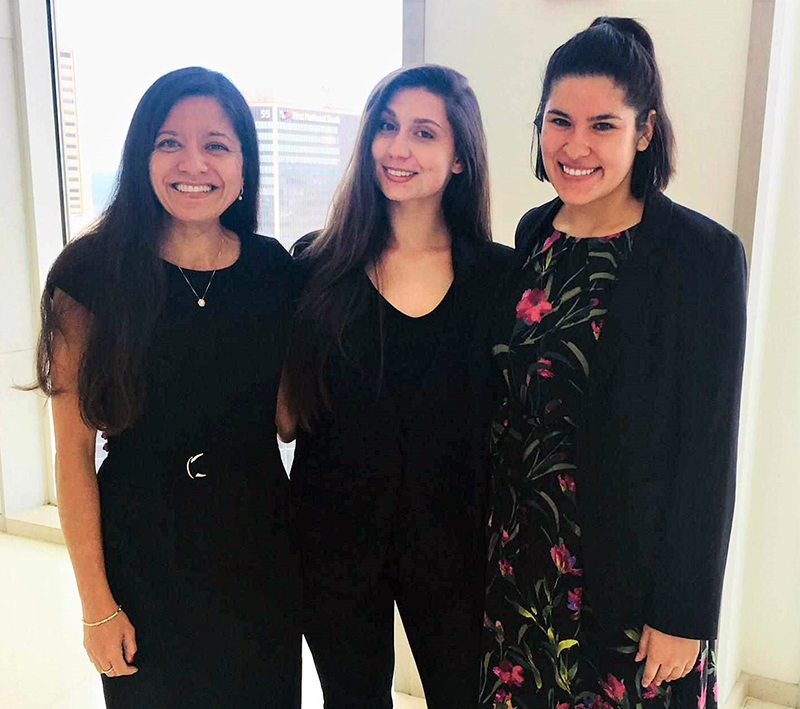 Elizabeth Knowles, left, who directs UA's Immigration and Human Rights Law Clinic, is pictured here with law students Serra Altintas and Cerena Ibara-Cech at the U.S. Immigration Court in Cleveland following a hearing for one of their clients earlier this year.
The immigration law clinic at Akron Law conducts know-your-rights presentations and pro se (self-representation) workshops for detainees in NEOCC and Chardon. In August, Knowles led a full-day training session at the law school to teach attorneys who don't practice immigration law how to represent clients in need of immigration-related legal services. More than 80 attorneys volunteered to serve as pro bono counsel for detainees in Youngstown.
"The tragedy is that the need is so great," Knowles continued. "NEOCC is bursting at the seams with individuals who need representation in removal proceedings, but we are only able to represent a small fraction of them in court. The rest are on their own. Immigration removal proceedings are complex and adversarial. Not many will win their cases."
An Intensive Class
For Akron Law students, the immigration law clinic class is a very intensive experience, said Knowles. Within a semester, students learn how to litigate an asylum case in immigration court, including all motions, briefing, research and weekly meetings with their clients at the detention center.
"Everything you would do in a trial the students are doing," said Knowles.
"It is intense," concurred third-year law student Jennifer Lattaker, who has jointly represented clients in two cases. "My experience at the clinic has been wonderful. … We're helping people who are underrepresented and underprivileged. They can't help themselves. For me, it's very sobering and very humbling."
Recent clinic successes in asylum cases include an individual from Eritrea who had suffered political and religious persecution and torture, and a public-school teacher from El Salvador who was harmed by violent gangs for protecting a female student from their control, said Knowles. Clinic students have also won bond hearings for several detainees, allowing them to be released from custody while they prepare for their hearing.
"We've established a great relationship with the Cleveland Immigration Court," said Knowles. "The judges address our students as 'counsel' and compliment them on their good legal work. They have even called to ask for our help with representation in some difficult cases."
The immigration law clinic has now added an appellate division for advanced students that accepts cases of individuals who are appealing their removal orders or are defending against an appeal by the government after being granted relief. Lattaker and fellow third-year student Kevin Gardner prepared the briefing for a petition that was filed in October 2018 with the U.S. Court of Appeals for the Sixth Circuit for a case in which an individual was deprived of his procedural due process rights by an immigration judge.
Legal expertise in demand
"Because the type of cases we handle are on a very fast track, we are usually able to complete them within the scope of a semester," said Knowles. "The students build quite a resume of experience. They are extremely marketable."
Christopher (C.J.) Peters, Akron Law's dean, echoed Knowles's comments.
"When I was in law school, the clinic I enrolled in was my favorite course," Peters recalled. "Only a live-client clinic can expose students to the unique responsibility of having a client who depends on you for legal help. And programs like Akron Law's Immigration & Human Rights Law Clinic serve a real social need by providing representation to those who otherwise couldn't afford a lawyer."
"The immigration law clinic in general is your best experience in law school," said third-year student Carrie Hill. "Not only do you get to apply the law and go before an actual judge — which is rare. You also get your own client. You are responsible for all the interactions, setting up meetings, getting evidence. All those classes you take in the first year come together in the immigration clinic."
Roger Ramirez, a May 2018 Akron Law graduate from Southern California who successfully represented an asylum seeker while part of the immigration law clinic, is now a staff attorney with the Northwest Immigration Rights Project (NWIRP) in Tacoma, Wash.
"The substantive law and practical courtroom experience I got in the immigration law clinic definitely made me very attractive to potential employers," he said. "I had several other offers [and not just in immigration law]."
Moreover, Ramirez added, contrary to what one might think, many jobs in immigration law at places such as NWIRP are highly sought after.
"A lot of my colleagues here graduated from top-15 law schools, including Harvard, Michigan and Penn. Akron's a great school. I'm glad I went there."
RELATED
---
Media contact: Lisa Craig, 330-972-7429 or lmc91@uakron.edu.