Like many across the country involved in teaching, senior education majors in The University of Akron's (UA) LeBron James Family Foundation School of Education are experiencing a time like no other. The COVID-19 pandemic turned the entire world upside down, including altering the traditional ways in which students are taught. Most K-12 schools and universities across the nation abruptly switched to remote learning and instruction, forcing educators — including student teachers — to quickly adapt.
Though students are now experiencing remote, in-person or hybrid instruction during the 2020-2021 academic year, UA education majors were prepared for their student teaching assignments this semester regardless of the method.
Going into her seventh- and eighth-grade student teaching assignment at Norton Middle School, UA education major Carson Moore was nervous about how she would experience her field training that serves as the academic capstone for her education degree.
"As a new student teacher this semester, I was worried about my placement before receiving it," says Moore, of Olmsted Falls. "I really did not want a completely remote experience, as I felt that I would not be as confident going into the workforce in the field of education after a fully remote semester. Luckily, my placement is in-person, although I do simultaneously teach a handful of students who are learning remotely for certain reasons. Once I received my placement, talked with my mentor teacher and learned that my district was in-person, I felt a lot better about student teaching during a pandemic."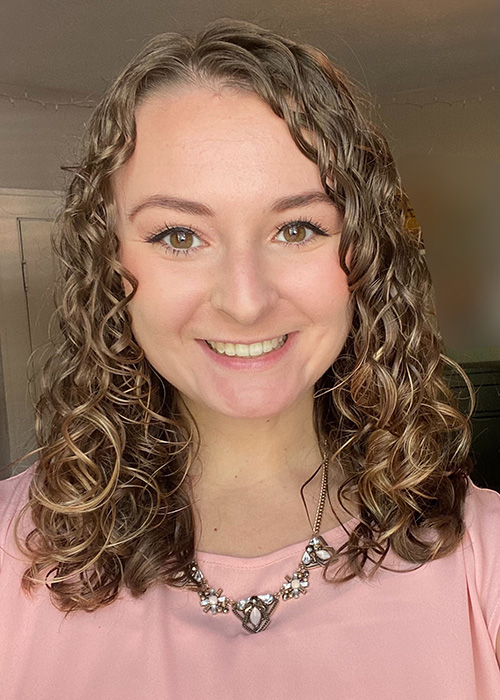 Carson Moore
Last year, the spring semester of the 2019-2020 academic year was disrupted by the pandemic, leading to public schools in nearly all of the U.S. states being ordered or recommended to shut down, affecting at least 50.8 million public school students, according to EducationWeek.org. By March 25, 2020, about two weeks after the World Health Organization declared COVID-19 a pandemic, all public schools in the U.S. were closed. Distance learning and instruction became the new norm. But this current academic year presented students and educators with hybrid-styles of learning, offering a mix of in-person and remote lessons, allowing students and teachers across the nation to slowly, but surely, return to the classroom.
As for Moore, her student teaching assignment has so far exceeded her expectations.
"It has definitely been easier than I went in thinking it would be," says Moore. "I was nervous about how I would adapt to a brand-new environment and adjusting to my classes and new schedule, but all of that has been relatively easy and actually fun. I really like my students and my students seem to like me. The pandemic has not affected my choice to go into education. I am still very confident in my chosen career and am hopeful that the pandemic will be over soon and life as we once knew it will resume."
Preparing for assignments: 'We did nothing different'
There are currently 115 students from UA's LJFF School of Education completing 16-week student teaching assignments, which takes place during their final undergraduate semester. The Ohio Department of Education requires a minimum of 100 hours of supervised fieldwork internship for an initial teaching license. The field work, or student teaching, is included in state-approved educator preparation programs.
Karen Plaster, a professor of practice in the LJFF School of Education and middle-level student teaching colloquium instructor, says the School was already incorporating virtual activities in education students' coursework even before the pandemic hit.
"We did nothing different in terms of preparing our students for their student teaching assignments," says Plaster. "Our courses have technology embedded into them."
For instance, in Instructional Design and Assessment, UA students complete the Google Educator 1 certification and in Teaching Math in a Primary Inclusive Setting pre-service teachers learn how to incorporate virtual manipulatives into their teaching. Something Plaster did incorporate after virtual teaching began was to have pre-service teachers in her class create a lesson for their students to complete on their own. The lesson includes a short video of the teacher engaging the student in the content with an activity for them to complete on their own.
"I learned during the pandemic that it is important for teachers to know how to make asynchronous modules," adds Plaster. Hopefully we will not see full-time virtual teaching in our future, but this time has shown us that occasional virtual teaching is a possibility for snow days or teacher professional development days."
Teaching remotely certainly has its advantages for aspiring teachers hoping to gain valuable experience, but it does come with its challenges.
Keeping students engaged
Amanda Hardman, of Massillon, a senior education student majoring in middle-level education and aspiring intervention specialist, has been completing her student teaching assignment at Massillon Junior High School. She student-teaches mostly in-person with the exception of a few weeks when her class moves to remote learning.
"I think teaching virtually allows for some opportunities to try new things that I would not have tried if I was in person," says Hardman, who teaches science and math. "I have virtual stickers and memes I use to encourage students to show up for online class sessions and finish their work. When we are online, I have my students for a 'study hall.' Instead of all of us sitting in silence I play lo-fi hip hop music and other music to show them good study habits."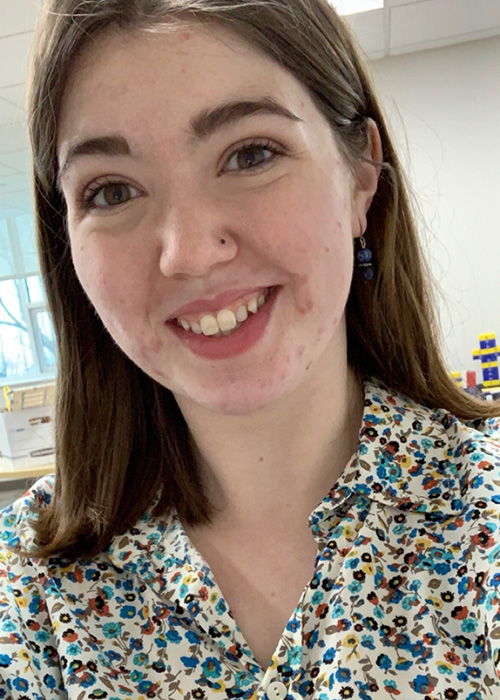 Amanda Hardman
During in-person teaching, Hardman still incorporates elements of fun, such as wearing a basket on her head so students can attempt to score a basket like in basketball if they correctly answer a math problem.
"Would I want the school to be all-virtual next year? Absolutely not. I don't think it's good for this age group because it is asking far too much self-regulation from them."
Middle-level education major Raleigh Thornton, of Dayton, says when he is doing student teaching in a support role as an intervention specialist with another student teacher, it's sometimes to a blank screen.
"The students show up for class, but they know they aren't required to turn on their video cameras, so it's quite literally my colleague talking to a black screen," says Thornton. "The majority of my experience has been face-to-face, which I rotate with a group of students through every period except specials and lunch. Some students are more absent this year than they usually would be, in some cases not showing up at all."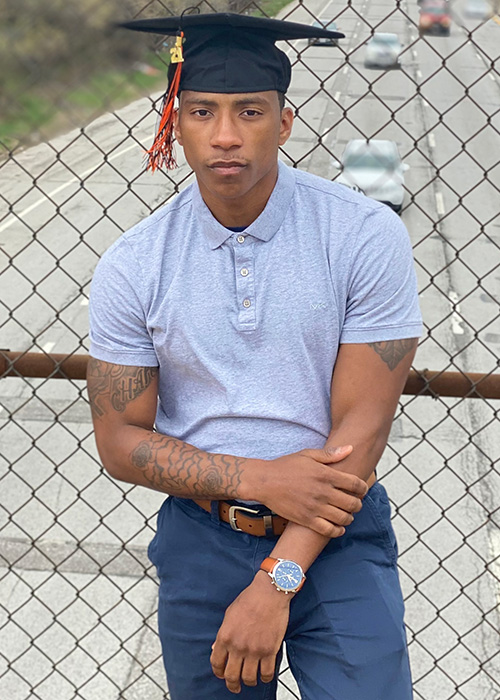 Raleigh Thornton
Looking ahead
Even during the disruption that the pandemic caused, UA education students were prepared to take on any challenges that came their way.
"The pandemic has definitely opened my eyes to the challenges that students face when it comes to their home lives and resources available," says Hardman. "Oddly enough, I have found that I enjoy teaching online as well as in person. I also love the creative outlet that education gives me. I love being able to be creative and silly, while being a good role model for kids. I wanted to catch them early to try and curve some of that math anxiety and let them know everyone can do math."
Thornton says the pandemic hasn't had any effect on his decision to become an educator. He became interested in pursuing an education degree after a positive experience with a mentor he had in sixth grade who eventually became the principal of the high school he graduated from.
"Originally, I was a social work major," Thornton says, "but I realized that, with my network being largely in the education industry, I would be at an advantage by pursuing a career in education."
"I have really enjoyed my experience," adds Moore. "Although difficult, it has been a great experience and I feel very lucky to have my experience in person, since some students have never even been into their actual building or have never met their students, besides on an online platform. I have always loved school and as I got older, I developed a passion for students and helping them learn and I'm excited to continue to get to know my students this year and as my career progresses."
---
Media contact: Alex Knisely, 330-972-6477 or aknisely@uakron.edu.