Brazilian delegation inspired by biomimicry in Northeast Ohio
08/05/2019

Sometimes the smallest things have the biggest impact.

The art and science of biomimicry is not limited to research in laboratories. It is a way of thinking that can manifest in every type of workplace to help ignite creativity and problem solving.

It was with this premise that partners Great Lakes Biomimicry (GLB) and the Biomimicry Research and Innovation Center (BRIC) at The University of Akron (UA) hosted a visiting group of Brazilian delegates on July 19. The delegates were visiting Cleveland and Akron courtesy of the College of Business Administration's Institute for Leadership Advancement.

Forty visitors from Brazil affiliated with the Latin American Institute of Business were participating in the institute's two-week Innovative Project Management Course, which is part of its International Executive Leadership Program. These project management professionals visited from companies across Brazil to learn about new models for business management and innovation.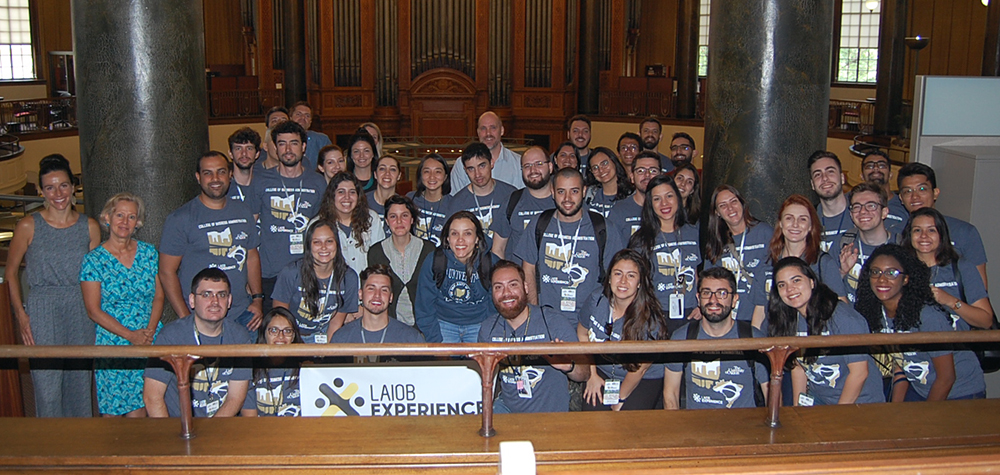 The 40 visitors from companies across Brazil learned how biomimicry processes insert creative problem-based approaches, an abundance of resources that are found in nature and an emphasis on product innovation. Here they are pictured at Nottingham Spirk.
"Project managers of all types can learn an immense amount of the creative and innovative processes that biomimicry can add to any business environment," said Kevin Smith, director of UA's Institute for Leadership Advancement. "Whereas traditional project management typically focuses on problem-aversion, efficiency and limited resources, biomimicry processes insert creative problem-based approaches, an abundance of resources that are found in nature and an emphasis on product innovation. For any economy, the adoption of biomimicry can be a complete game changer."
Benefits of biomimicry
To demonstrate the benefits of this mindset, Nottingham Spirk, a product design firm based in Cleveland, was selected to present at the event, highlighting the benefits of biomimicry. The company has an international reputation for developing innovative products, 95% of which are commercialized, compared to a 5% industry average. The company also sponsors UA Biomimicry Fellow Ariana Rupp — she spends 20 hours per week advancing biomimicry initiatives at its headquarters, while undertaking biomimicry-focused dissertation research as a Ph.D. candidate in Dr. Petra Gruber's lab.
The event highlighted the value of implementing biomimicry through the eyes of Nottingham Spirk, who, with the help of GLB and BRIC, has been inserting biomimicry into their Vertical InnovationTM product development process to kickstart creativity since 2015. The visiting Brazilian business professionals got a chance to learn about the concept of biomimicry and experience diverse examples, including Brazilian case studies specially curated for them, such as poppy flower bud and beetle wing-inspired cosmetics packaging by Natura; and prairie dog mound-, cacti-, and mangrove-inspired Votu Hotel by GCP Arquitectura & Urbanismo. The event also included a panel discussion and tours of Nottingham Spirk's state-of-the-art, 60,000-square-foot Innovation Center situated in a historic building.
Biomimicry Fellows extend reach
Rupp described the impact biomimicry has had at Nottingham Spirk, and Trisha Brown, co-director of GLB, provided context around the larger GLB-BRIC ecosystem, which has placed UA Biomimicry Fellows with more than 20 organizations across Northeast Ohio and beyond, and are extending their reach with service offerings like professional education workshops and innovation consulting services.
"We were delighted to experience the work of Great Lakes Biomimicry and especially impressed with their partnerships between Nottingham Spirk and The University of Akron," said Smith. "We were blown away by the innovative practices and ground-breaking initiatives happening right here in Northeast Ohio. We left feeling like this is just the tip of the iceberg for what's ahead for our region. It was amazing to share this with guests from another country."
The next GLB-BRIC outreach event occurs on Friday, Aug. 16, from 8:30 a.m. to noon at the Cleveland Museum of Natural History, 1 Wade Oval Drive. It is part of the University Hospital's Ventures Health Voyagers Series titled "Call of the Wild: Biomimicry for Healthcare Innovation." Representatives from BRIC and GLB will speak.
It is free and open to the public, but registration is required.
---
Media contact: Lisa Craig, 330-972-7429 or lmc91@uakron.edu.