Akron Law student wins national award for excellence in legal writing
01/31/2020

Matthew A. Brown, a 2021 candidate for a Juris Doctor degree at The University of Akron School of Law, is one of the winners of the 2019 Brown Award for Excellence in Legal Writing sponsored by the Judge John R. Brown Scholarship Foundation. The foundation is affiliated with the Houston-based law firm Brown Sims. This was the 26th year for the award.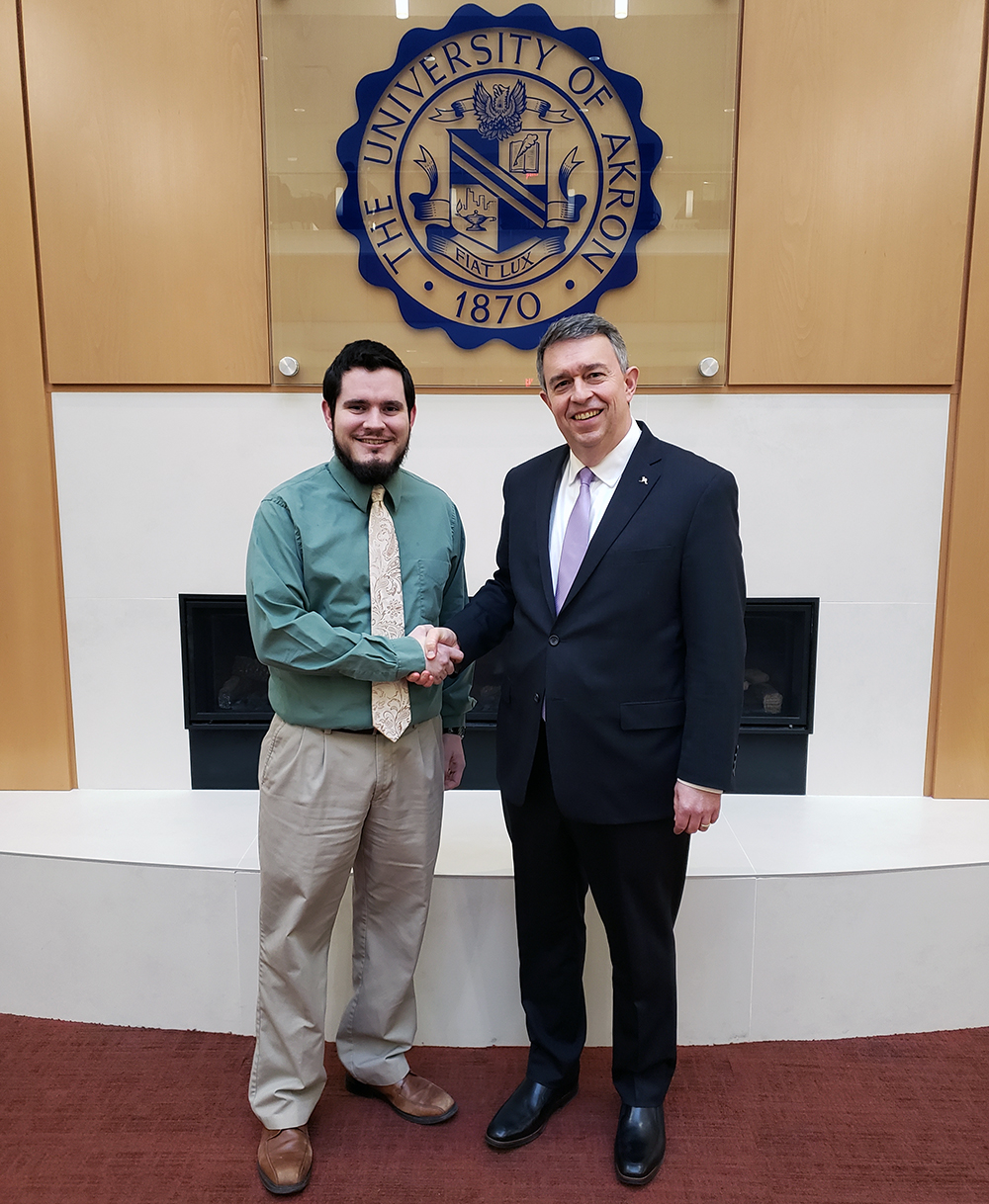 Matthew A. Brown receives congratulations from Dean Christopher J. (C.J.) Peters.
Brown's article, "Masterpiece Cakeshop: A Formula for Legislative Accommodations of Religion," tied for second place in the competition and earned him a $4,000 prize. His entry was sponsored by Christopher J. (C.J.) Peters, dean of UA's School of Law, who also served as faculty supervisor for Brown's paper.
The article will be published in the forthcoming Spring 2020 issue of The Akron Law Review. Upon publication, it may be viewed online.
"This is a wonderful honor for Matt, and a real distinction for the Law Review and the School of Law, said Peters. "Well done, Matt! And kudos as well to the student editors of the Law Review."
Brown is an Honors Scholar at Akron Law. He is managing editor of ConLawNOW, an online legal journal published by Akron Law's Center for Constitutional Law, and was assistant editor of the Akron Law Review in 2018-19. He is a three-time winner of the CALI Award, given to the student with the highest grade in each law school class. The "Masterpiece Cakeshop" article also earned him the Law Review's Best Student Note Award for 2019.
Brown holds a B.A. in Political Science and Government from the California State University, Bakersfield.
Matt Brown is not related to the Brown family of Brown Sims or the Judge John R. Brown Scholarship Foundation.
---
Media contact: Lisa Craig, 330-972-7429 or lmc91@uakron.edu.