A celebration of polymer alumni
06/01/2022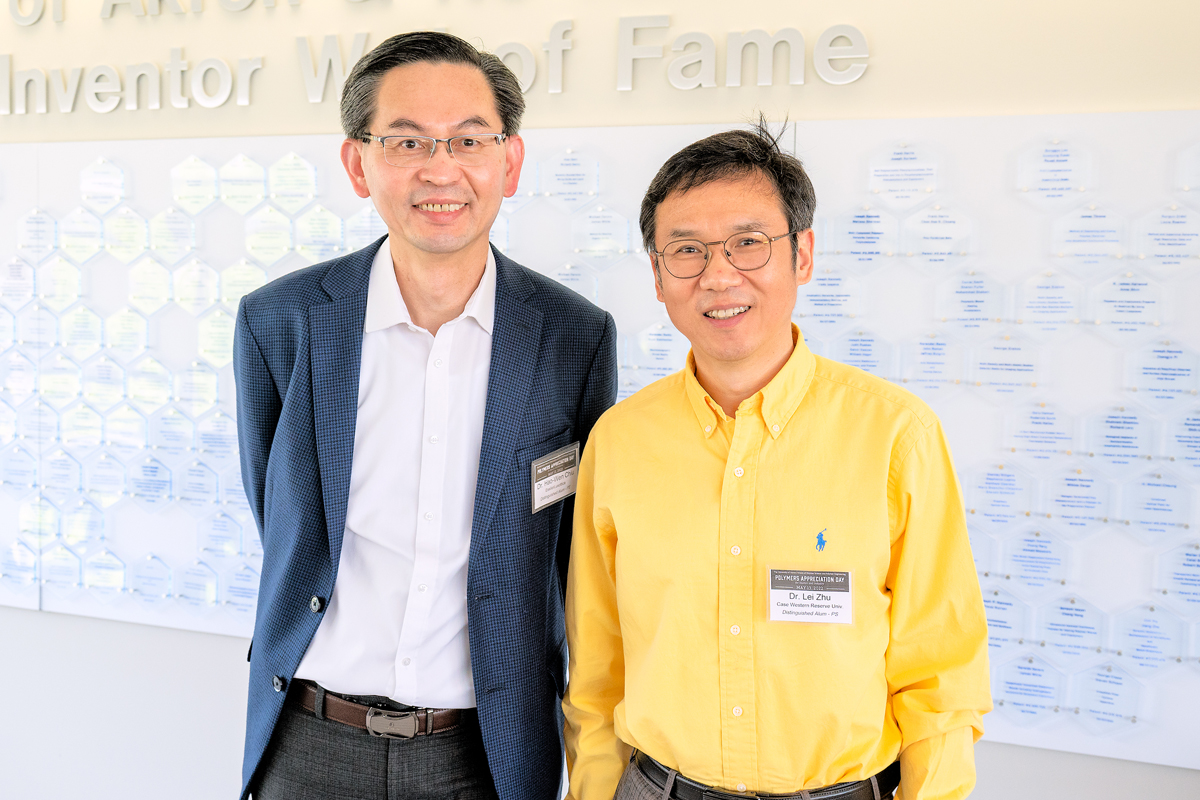 Distinguished Alumni Award winners, Dr. Hao-Wen Chiu and Dr. Lei Zhu
Accomplished alumni and leaders in polymer engineering and polymer science gathered at the Goodyear Polymer Center for Polymers Appreciation Day on May 13, 2022.
The day included opening remarks from Craig Menzemer, Dean of the College of Engineering and Polymer Science, and Tianbo Liu, Interim Director of the School of Polymer Science and Polymer Engineering.
"Polymer faculty and graduate student research is impressive, and the work of our alumni is nothing short of exceptional," Dean Menzemer addressed the crowd. "Alumni are the greatest ambassadors of our college. They are trusted counselors, providing us with valuable insight to deliver the best education to our students. They fund scholarships allowing our students to learn here and they hire our students. We cannot educate a future generation of polymer leaders without their support, and we are grateful."
2022 Distinguished Alumni Award winners
Each year, a planning committee in the School of Polymer Science and Polymer Engineering selects two recipients of the Distinguished Alumni Award. Recipients are chosen based on faculty nominations. Recipients were chosen based on reviewing their achievements in academia or industry. This year, Dr. Lei Zhu and Dr. Hao-Wen Chiu were selected. Dr. Zhu is Professor of Macromolecular Science and Engineering at Case Western Reserve University. His research focuses on dielectric and ferroelectric polymers and nanocomposites for advanced electrical and power applications, including polymer film capacitors, piezoelectric/electrostrictive polymers for actuation, sensors, and energy harvesting.
"This recognition really means a lot to me," says Dr. Zhu. "The polymer program at Akron was instrumental to my career, and I encourage anyone interested in the field to consider Akron for their education."
Dr. Hao-Wen Chiu is the Principal R&D Scientist at EsilorLuxottica, a multinational corporation based in Paris that designs, produces, and markets ophthalmic lenses, optical equipment, prescription glasses and sunglasses. Dr. Chiu manages R&D programs and supervises scientists, engineers, and technicians. His main research areas include optical thermoplastic materials, light filters, and injection molding processes for ophthalmic lenses, augmented reality eyewear components, and myopia control devices.
"Receiving the award meant a great deal to me," says Dr. Chiu. "The recognition of my accomplishments reaffirms my career choice to fulfill the mission of improving lives by improving sight for everyone, everywhere."
A day of learning
The event included a day of polymer focused talks from industry experts, kicking off with a keynote from Dr. Bradley Olsen, Professor of Chemical Engineering from MIT. Dr. Olsen shared his research on the development of CRIPT, which is a "Wikipedia like data commons" for polymer materials and talked about trends in polymer research.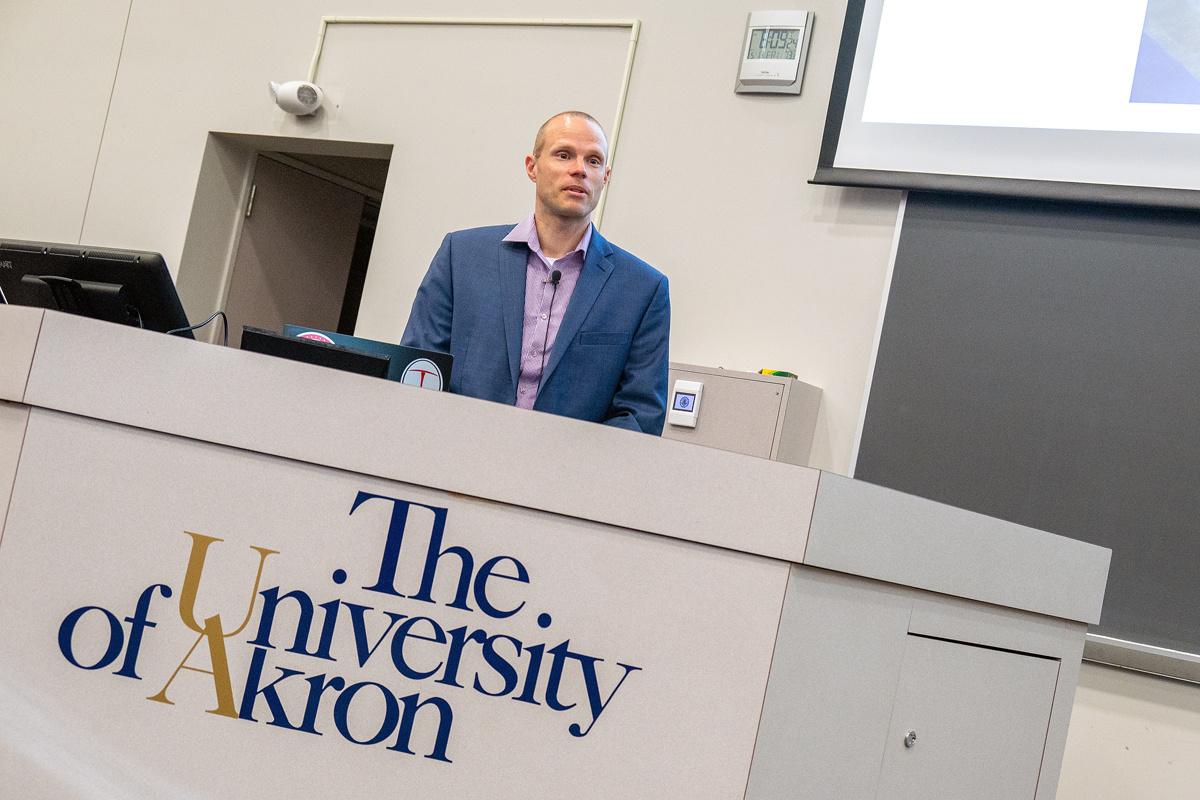 Dr. Bradley Olsen presents his keynote lecture in the Goodyear Polymer Center auditorium.
Additional scientific talks featured both Distinguished Alumni Award winners, Dr. Qing Wang, Professor of Materials Science and Engineering from Penn State University; Dr. Fardin Khabaz, Assistant Professor of Polymer Engineering/Assistant Professor of Chemical, Biomolecular, and Corrosion Engineering; and Dr. Jungpeng Wang, Assistant Professor of Polymer Science, both from The University of Akron.
"I loved seeing how successful our alumni are," says Alessandro Perego, doctoral candidate in polymer engineering. "It is nice to see how well our school prepare us for what is next in life, not only as scientist/engineers but also as managers and leaders."
The legacy of a polymer legend
This year's event also included the inaugural presentation of The Darrell H. Reneker, Ph.D., Endowed Award in Polymer Science and Polymer Engineering. Established in memory of Dr. Darrell H. Reneker, the annual award provides financial assistance to an outstanding polymer student.
After a three-decade career in industry, Dr. Reneker joined The University of Akron in 1989, serving as a professor of polymers until his retirement in 2019. His accomplished research record includes more than $5 million in funded projects, 40 U.S. Patents and pending patent applications, and more than 160 publications. He is credited with developing a method of electrospinning that is used worldwide today, and the discovery earned him deserved recognition as the 'father of electrospinning.' He also was an adviser on issues of intellectual property; committed to progress in polymer physics, polymer science, and electrical engineering; and devoted to students, directing more than 22 Ph.D. and M.S. candidates.
Dr. Reneker passed away on October 17, 2021, at the age of 91.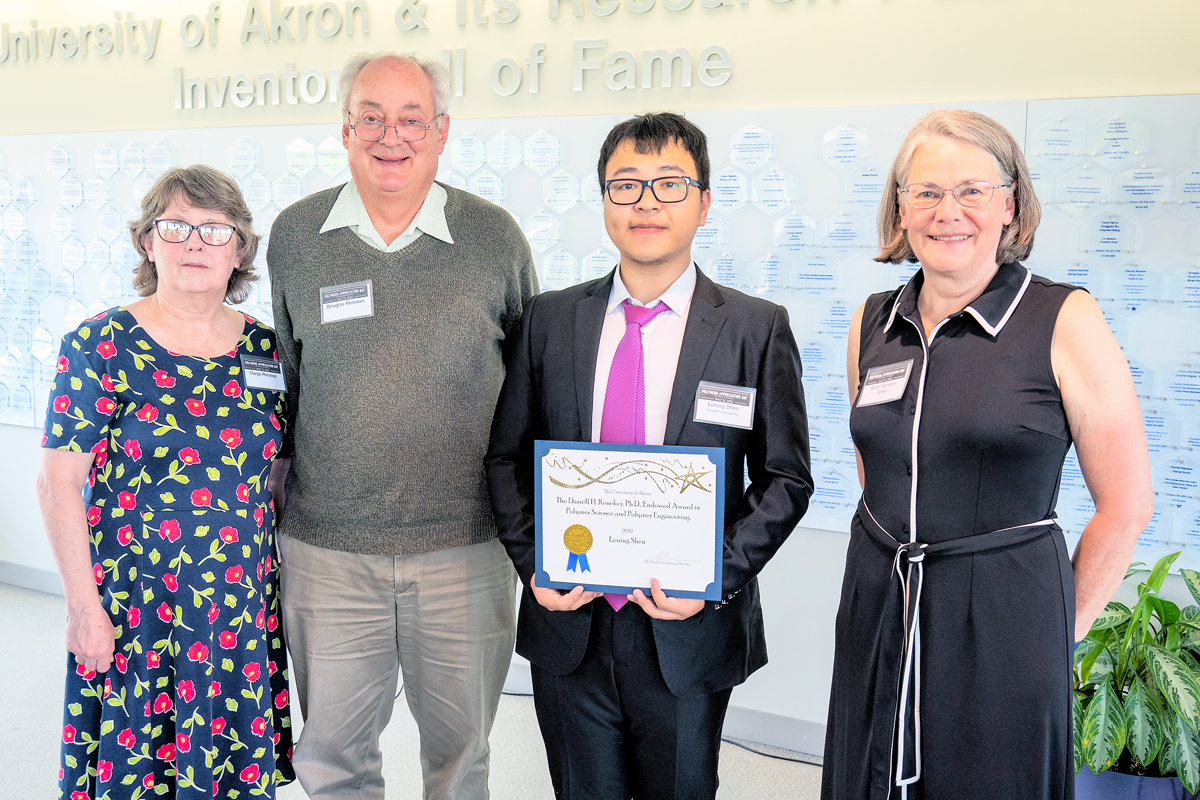 UA student Lening Shen with members of the Reneker family.
The first Darryl H. Reneker Ph.D. Endowed Award for Polymer Science and Polymer Engineering was awarded on May 13 to Lening Shen. Dr. Reneker's son and daughter-in-law, Douglas and Margaret Reneker (left) of Illinois and daughter, Elizabeth Reneker Riley (right) of Maine, attended the presentation.
---
RELATED CONTENT:
---
Media contact: Cristine Boyd, 330-972-6476 or cboyd@uakron.edu.
Share