Presenters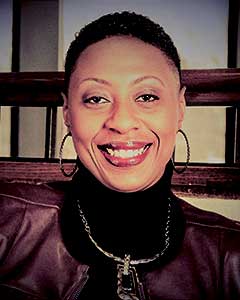 Lisa G. Belcher-Nelson
Lisa G. Belcher-Nelson has had the privilege of serving, counseling, nurturing, advocating, encouraging, and educating college and high school students. Lisa is an Assistant Professor and Counselor at Cuyahoga Community College. She received a B.S. degree from Ohio University in Hearing and Speech Sciences; an M.S.Ed. Degree in Education Guidance and Counseling from The University of Akron. Currently, she is completing her doctorate of Education in Organizational Leadership with an emphasis in Behavior Health at Grand Canyon University.
As a counselor and professor, Lisa seeks to promote student success in higher education by training faculty and administration to support student persistence, develop a better understanding of socioeconomic diversity, and strengthen the first-year experience effectiveness. To help increase student retention and completion, Lisa co-developed a college-wide First-Year Experience Curriculum, textbook, and faculty training for Cuyahoga Community College.
---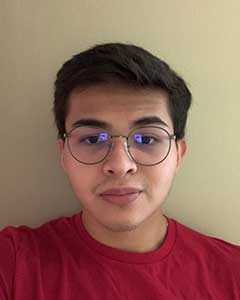 Joshua Panchana Cedeño
Joshua is the President of UA Latinos and is a second-year computer science student and is minoring in Spanish. He aims to become a software developer as his primary career goal.
---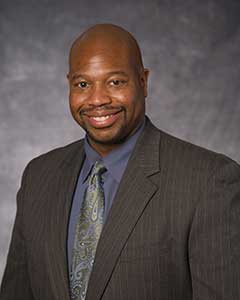 Dr. Aaron Thomas Ellington
Aaron Thomas Ellington, Ph.D., LPCC-S, LICDC-CS joined the staff of the University Hospitals' Department of Psychiatry on September 7, 2021 as the Director of Ambulatory Clinical Programming and Chair of the Diversity, Inclusion, and Equity Committee. His primary duties are to review, evaluate, and possibly convert clinical programs throughout the department to assure that they are evidence based and/or best practices. Also, as the Chair of the Diversity, Inclusion, and Equity Committee, Dr. Ellington assist in managing the activities of the committee to help the department in achieving its diversity goals.

Dr. Ellington has a doctorate and master's degree in counseling psychology from Cleveland State University and University of Wisconsin at Madison respectively. He brings over 30 years of clinical experience including over 13 years of supervision/management experience. Dr. Ellington also has a license in psychology, independent clinical counseling with supervision designation license, and an independent chemical dependency license with supervision designation. Dr. Ellington is well versed in running groups, individual counseling, assessments (psychosocial, chemical dependency, and some psychological testing), training seminars, research, crisis intervention, case management, teaching master's level chemical dependency classes and doctoral level counseling psychology classes at Cleveland State University. Dr. Ellington was also honored with Cleveland State University's Distinguished Alumni Award in 2011.

Dr. Ellington currently runs a private practice (Behavioral Health Services of Greater Cleveland) in two locations with his partner David Smith.
---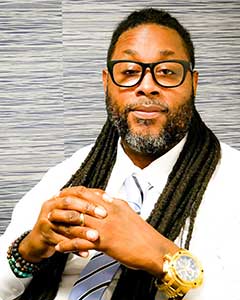 Ace Epps
Ace Epps attended Kent State University and The University of Akron studying Pan African American History and Organizational Supervision. In 2004 Ace took a job at the Oriana House, a local community based correctional facility.
There he served as a recruitment assistant and resident supervisor where he worked with mental health, violent and nonviolent ex-offenders as well as dual diagnosed clients.
Ace is a certified facilitator and business counselor who specializes in Black male engagement, workforce development and business creation. With over 20 years of experience working in the nonprofit sector Ace also hosted a weekly radio show on WAKR and produces local podcasters through his own company called The Self Advancement Center LLC/ Be You Podcasting Company.
From 2015 to 2019, Ace served as a Community Manager and Fellowship Director for Akron BMe Community, a national organization leading in Diversity, Inclusion and Equity. In 2019, Ace created a new workforce development program and curriculum for a local nonprofit organization called OPEN M.
Ace currently serves as the Director of Inclusive Entrepreneurship for an Akron based tech and non tech entrepreneur organization called Bounce innovation Hub. There, Ace runs the GROW program. GROW offers three programming tracks that develop the entrepreneurial spirit and help strengthen the minority small businesses community in Akron, Ohio.
---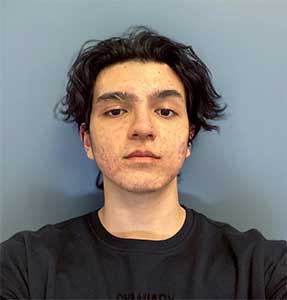 Mateo Fajardo Trujillo
Mateo is the Vice President of UA Latinos and is a first-year Political Science major. He was born Ibague, Colombia. His goal is to become a lawyer and pursue a career in politics later in his career.
---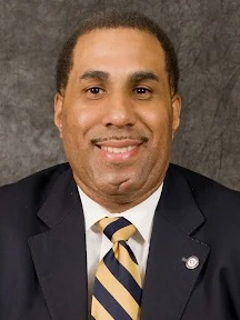 Gregory Freeman
G. Gregory Freeman native of Columbus, Ohio a graduate of the Akron Public Schools. He holds a B.S. Administrative Business along with Masters of Education work in Human Resource Development and Training from the University of Toledo. Greg has over fifteen years of non-profit experience with the American Red Cross, NEOMED, and other agencies. Most recently Greg has moved into higher education serving the past five as the Director for the Upward Bound Math-Science Program A TRIO grant funded by Department of Education as well as the Director of the F.A.M.E. (Focus on African American Males in Education) Program funded by the Greater Stark County United Way at Stark State College. The FAME Program provides mentorship to African American Males between 9-12 grade. Greg is a member of the Alpha Phi Alpha Fraternity Inc. Greg Freeman is also serving an Akron Area Church as Senior Pastor for the past five years. Greg serves on a few area boards and several community committees.
---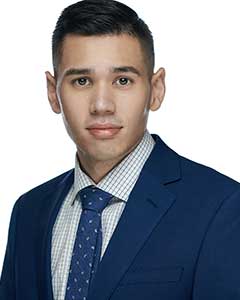 Harry Hawkins
Harry Hawkins is an advocacy and higher education professional seasoned in creating community partnerships, developing and delivering educational campaigns and programs, and spearheading organizational priorities. He previously served as the University of Missouri-St. Louis' first LGBTQ+ Coordinator. He currently serves as the Director of the LGBT Center at Case Western Reserve University in Cleveland, Ohio. Harry has a long and successful history in promoting diversity, equity, and inclusion. He completed his Master's in Clinical Mental Health Counseling at Mississippi State University, where he and his peers founded the university's first Safe Zone program. Harry was active in promoting social justice efforts on campus and in his community. After completing his MS at Mississippi State, Harry went on to work for the Human Rights Campaign (HRC), the nation's largest LGBTQ+ and civil rights organization. He spent three years as the HRC Field Director in their Mississippi field office, where he energetically worked to promote LGBTQ+ advocacy initiatives to achieve LGBTQ+ equality.
---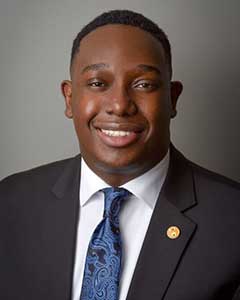 Christian Howse
Christian Howse is a current police officer living in Minneapolis, Minnesota and is a 2017 grad of UA. Prior to becoming a police officer Christian, who is known by his friends and family as CJ worked for Summit County Court of Common pleas and The University of Akron. CJ spent his undergraduate career at UA focused on advancing the academic and social experiences for students of color as one of the founding members of the Black Excellence Commission and a known leader on and off campus.
---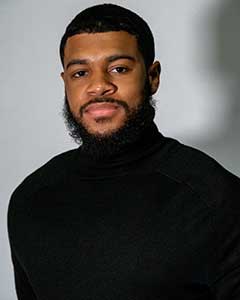 Tyrone Johnson
Tyrone Johnson is a 3rd Year Computer Engineering Student at The University of Akron. Tyrone is involved with a few leadership roles on campus: Residence Life & Housing - Resident Assistant, UA National Society of Black Engineers (NSBE) - Membership Chair, UA Ambassador, & President of The UA Collegiate100. Throughout Tyrone's collegiate career, he has been driven to make an impact in young people's lives by setting an example as to what it means to embody a black leader on campus, checking/following up with students and their academic success, and providing advice and opportunities to students, all while staying on top of his own academics.
---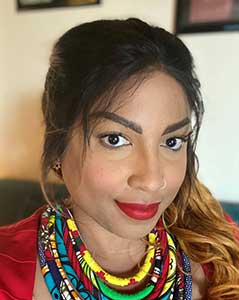 Courtney Johnson-Benson
Courtney Johnson-Benson works as a Senior Assistant Director of Admissions at The University of Akron. She earned a Bachelor's in Political Science/Pre-Law in 2009 and a Master's in Higher Education Administration in 2011. Immediately following graduation Courtney began giving back to her community, working with Massillon Museum/Massillon City Schools Artful Living - Art Immersion Program and acting as Director of Education for The Ananda Center for the Arts. When the opportunity to go back to her alma mater presented itself, she graciously accepted. Courtney serves as an in-house diversity trainer and coordinator of multicultural recruitment in the Office of Admissions at The University of Akron. She is a state and national award-winning college admission and certified diversity professional, focusing mainly on public speaking. She currently serves as an Ohio Association for College Admission Counseling President and Executive Board Member and National Association for College Admission Counseling Member.
Additionally, Courtney serves as Board Member - Soroptimist International of Canton/Stark County, Grant Committee Member - Women's Endowment Fund of Akron, Vice-Chair of Hotel Ambassadors Committee - Pro Football Hall of Fame, Black College Football Hall of Fame Classic Committee Member, and Leader of the Temple Israel Social Justice Alliance Women's Equality and Reproductive Rights Committee, Temple Israel Canton Board Member, University of Akron Contract Professional Advisory Committee and University Council Executive Committee Member, Planned Parenthood Advocates of Ohio Board Member, Women of Reform Judaism Central District Advocacy Chair, and Religious Action Center of Ohio Core Team Member. Courtney is a force of nature. She aims to be the catalyst for change in her office at The University of Akron and beyond. Her goal in life is to help others realize their potential and purpose. Courtney can be found throughout Northeastern Ohio volunteering, performing, and advocating for change when not working. She is an avid supporter of all things art and music. Courtney is married to her partner of 14 years, Toby Benson - middle-level educator and coach; they reside in Stark County, Ohio.
---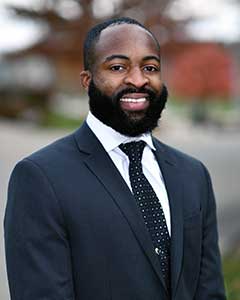 Emeka Obinnakwelu, Jr.
Emeka Obinnakwelu, Jr. is a Graduate Assistant in the Office of Multicultural Development here at UA. He has been serving in the role since September 2021. Emeka is currently in the Clinical Mental Health Counseling Master's Program here at UA and will be graduating in December. Upon graduating, Emeka is planning on furthering his education by pursuing a PhD in counseling. He is currently a member of the UA chapter of Chi Sigma Iota which is an international honor society that values academic and professional excellence in counseling. Throughout his time at UA, Emeka has been passionate about being a role model to the students he works while also pushing them to maximize their potential. Emeka earned a Bachelor of Arts degree in Exercise Science from Youngstown State University in 2017.
---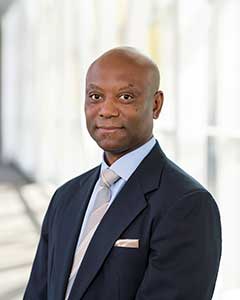 Thomas (Tom) L. Peeples
Thomas L. Peeples, Jr. is a 1994 and 2003 graduate of Rochester Institute of Technology. He graduated with a Bachelor of Science in Mechanical Engineering from the College of Engineering and later a Master of Science in Cross-Disciplinary Professional Studies (Quality and Statistics) from the College of Applied Science and Technology.
Currently, Thomas is the Sr. Manager of Lean Operations, Americas at the Goodyear Tire & Rubber Company. In this role, Thomas has responsibility for Operational Excellence, Continuous Improvement, the Quality Management System and Business Continuity Planning, in the Goodyear Innovation Center in Akron, Ohio. Thomas hired into Goodyear at the Goodyear Innovation Center in Akron, OH as a tire designer/tire engineer in 1999. He spent the first five years of his career designing large earthmover vehicle tires and original equipment passenger car tires. In 2004, Thomas moved to San Angelo, TX to work at the Goodyear Proving Grounds. There, he had several different leadership roles in tire evaluation (testing). In 2009, Thomas took on the role of a Quality Technology Team Leader (Curing/Final Finish) in Goodyear's Danville, VA truck and aircraft tire manufacturing facility. In 2011, Thomas returned to Akron, OH, as an Enterprise Project Leader (Project Manager in Marketing) where he managed the successful launch of several new tire lines, including the Wrangler All-Terrain Adventure. In 2013, Thomas came back into the Goodyear technical organization as a team leader in Customer Engineering where he and his team were responsible for managing the technical relationships with key Commercial Original Equipment (OE) Truck customers and fleet focus testing. In 2015, Thomas moved to Brazil, where he was the Director of OE product development for Latin America, Manager of the Latin America Proving Grounds, and Manager of the Latin America Customer Engineering team. In 2017, Thomas moved back to Akron, into the role of a Chief Engineer in Global Tire and Mold Engineering. In June of 2018, Thomas moved to the Chief Engineer role at the Akron Test Center / Engineering Technology Lab. Most recently, prior to his current role, he was a Sr. Technical Project Manager in Off-Highway/Aviation where he had responsibility for the tire design of military aircraft, commercial and business jets, and several large commercial original equipment manufacturers (OEMs).
While at RIT, Thomas ran track (55m High Hurdles, 110m High Hurdles, and High Jump). He is a 5-time NCAA All-American and recipient of the RIT Walls-Olsen Memorial Scholarship for "Outstanding Contribution to Student Life". Thomas was inducted into the RIT Sports Hall of Fame in 2001. Also, at RIT, Thomas participated in the Navy Reserve Officer Training Corps (NROTC), and upon graduation from RIT, he was commissioned an Ensign in the US Navy. In the Navy, prior to Goodyear, he served in various Surface Warfare roles onboard the USS Fletcher (DD-992) and the USS Hewitt (DD-966).
Thomas is Adjunct Faculty at Rochester Institute of Technology in the College of Engineering Technology. He is also actively engaged in several community-based organizations and professional development. He is a past President (2019-2020) of the Goodyear Veterans Association and a graduate of the 2018-2019 Goodyear Community Leadership Institute. He is on the executive committees of the Akron NAACP and the 100 Black Men of Akron. He was recently elected to the board of directors of ProjectGrad Akron and continues to serve, in uniform, as the Operations Officer of the Ohio Navy.
Thomas is the recipient of the US Black Engineer and Information Technology magazine 2020 Stephanie C. Hill Black Engineer of the Year "Legacy Award".
Thomas currently resides in Hudson, OH. He is originally from Boston, MA. He is married and has three children.
---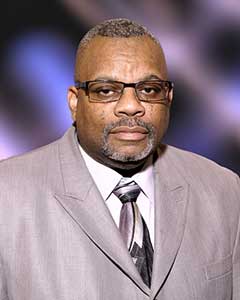 Dr. John E. Queener, Jr.

Dr. John E. Queener, Jr. obtained his BA from The College of Wooster, MA from The Ohio State University, and received his Ph.D. in Counseling Psychology from The University of Akron. He is a professor and teaches graduate courses in the Counseling Psychology Program at the University of Akron. He writes and publishes research in the areas of multicultural issues, culturally specific interventions, and retention and African American males. He currently serves as the Executive Director of Minority Behavioral Health Group, a non-profit organization founded to reduce the mental health disparities for African Americans and other under-served populations. He is married to Charlene Queener, and they have four children-Malik, Aisha, and twins Jelani and Jabari, and three grandchildren.
---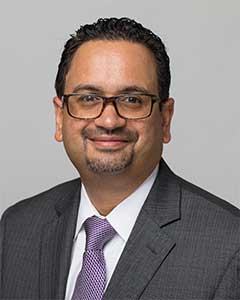 Victor A. Ruiz
Victor A. Ruiz is the Executive Director of Esperanza, Inc., an organization founded in 1983 whose mission is to improve the academic achievement of Hispanics in Greater Cleveland by supporting students to graduate high school and promoting post-secondary educational attainment.  Under his leadership, Esperanza has grown tremendously and has been a leader in addressing the educational needs of Cleveland's growing Hispanic community.  The organization has received national and local recognition for its work, including being named the 2019 Midwest Affiliate of the Year by UnidosUS, a 2015 Bright Spot in Hispanic Education by the White House Initiative on Educational Excellence for Hispanics, and receiving the prestigious Anisfield-Wolf Community Organization Award from the Cleveland Foundation.  

Victor lives in Cleveland with his wife and three children. He a graduate of the Cleveland School System, has a bachelor's degree in English from Baldwin Wallace College, and a master's degree in Education from Cleveland State University.  He serves on several boards including The Cuyahoga Community College and the United Way of Greater Cleveland. He is also Certified Professional Diversity Coach (CPDC) and a W.K. Kellogg Foundation Fellow, where he completed a 3-year fellowship focusing on racial equity and healing.
---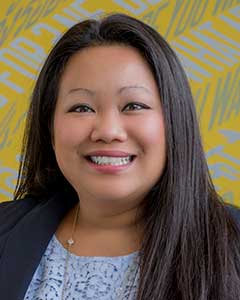 Naomi Sigg
Naomi is the Senior Associate Dean of Students at Case Western University in Cleveland, Ohio and plays a major role in the development of diversity, equity, and inclusion initiatives on campus and in the Division of Student Affairs. She serves as the Co-Chair of the Student Life Diversity, Equity, and Inclusion Committee, founding member of the APIDA Task Force, Co-Chair of the Dr. Martin Luther King Convocation Committee, and serves on several university committees including the Diversity Leadership Council, the President's Advisory Council on Minorities, and Alianza Latina/Latino Alliance, the Latinx employee resource group. Naomi is a certified Green Dot Facilitator, Sustained Dialogue Moderator, and recently completed a Certificate in Diversity, Equity, and Inclusion in the Workplace.
During her tenure at CWRU, Naomi, along with her team, developed the three-hour Diversity 360 educational module for undergraduate and graduate students which serves as a common experience, setting a foundation for key identity, diversity, equity, and inclusion concepts. The program is facilitated by over 150 trained faculty, staff, and students. To date, over 12,000 students have been through the program.
As a strong advocate for underrepresented and marginalized communities, Naomi collaborated with students in the creation of several new organizations including, the Undergraduate Diversity Collaborative, the Black Student Union, Voices: A Women of Color Collaborative and the Indigenous Alliance for Native American and Indigenous communities on campus. Naomi often presents her work at regional and national conferences, including the International Conference on Conflict Resolution and Education, the National Conference on Race and Ethnicity (NCORE), the American College Personnel Association (ACPA), the Midwest Asian American Students Union (MAASU), and the Ohio Consortium for Multicultural Centers in Higher Education (OCMCHE). In She is arecipient of the Mather Spotlight Award presented by the Flora Stone Mather Center for Women, an awardee of the
Ohio College Personnel Association's Equity and Inclusion Award, and along with colleagues from Case Western Reserve University she received the National Dialogue Award presented by the Sustained Dialogue International Institute.
---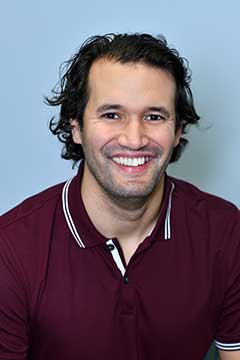 Terry Vance
Terry Vance is the Interim Associate Director of Diverse Male Initiatives Office of Multicultural Development. He has been serving in the role since September 2021. Previously, Mr. Vance served as an Academic Advisor for three years in the Buchtel College of Arts and Sciences at the University of Akron. Prior to joining UA, Mr. Vance served as an Academic Advisor for Kent State University's College of Business Administration in 2017. Vance earned a Bachelor of Arts degree in International Studies from Centre College in 2015 and added a Master of Education in Higher Education Administration and Student Affairs from Kent State University in 2017.
---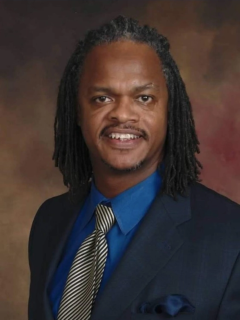 Dr. Curtis Kwodwo Williams II
Dr. Curtis Kwodwo Williams II is an accomplished African centered, community psychologist who, over the past 20 years dedicated his life to helping others through direct clinical services, group programming, research, and training. His current and longest standing position as an African centered clinical community-based psychologist at Ohio's premier culturally based mental health agency Minority Behavioral Health Group (MBHG) has afforded him the opportunity to practice throughout Northeast Ohio. In his current role as Community Programs Coordinator and Psychotherapist he provides individual, collateral, and family therapy services for underserved populations (African Americans, elderly, and children). While working at MBHG he has facilitated numerous culturally based projects involving macro systems such as Akron Public School, Summa Health System, Akron Judicial System (juvenile and adult), Akron Health Department, Job and Family services, Adult protective services, and Children services. over twenty years in the mental health and social service.
---