Volunteering is part of the grade for senior engineers
12/12/2018

Beyond the traditional assigned reading or homework that goes into earning a letter grade in some courses here, students in Dr. Gopal Nadkarni's mechanical engineering senior seminar class must also volunteer their time and give back to the community. These future engineers are required to each complete five hours of community service through small group projects. In total, the 193 students in the College of Engineering have contributed more than 1,000 hours of their time volunteering on campus and at homeless shelters, food banks, the Akron Zoo, nonprofit organizations and parks.

"This seminar class teaches students life and leadership skills," said Nadkarni, an associate professor of mechanical engineering. "It not only teaches the students how to be talented engineers, but also how to be simple human beings. There's no better leadership skill than building empathy and coming together for the common good. Our students work in teams and learn how to give back."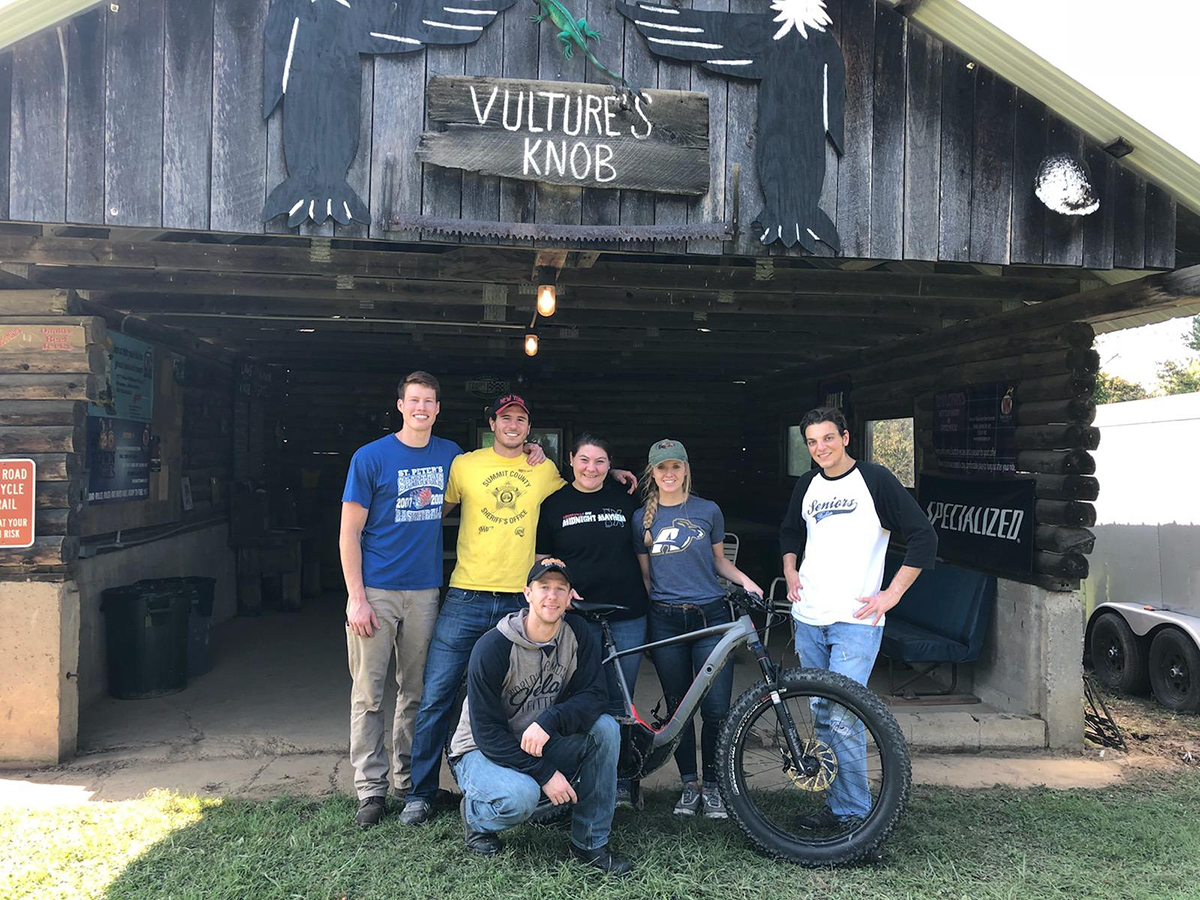 Bryan Truex (left), Carson Corle, Anthony Hayes, Melissa Furdak, Olivia Chapman and Matt Modena volunteered their time at Vulture's Knob, a mountain bike park in Wooster, by removing downed trees and branches along a bike trail.
At the Military Aviation Preservation Society (MAPS) Air Museum in North Canton, students washed the exteriors of six airplanes and also learned how material on older plane models were flush-rivetted together by riveting pieces of sheet metal.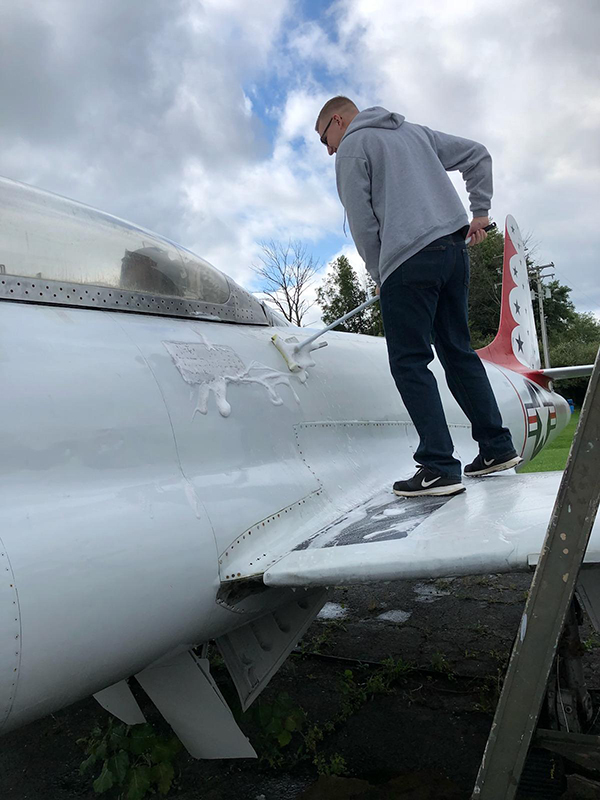 Engineering student Matt Chapman cleans an airplane at the MAPS Air Museum in North Canton.
"I gained a lot of respect for the people that volunteer there on a regular basis," said Cameron Barr, of Bolivar, one of the students who volunteered at the museum. "There are countless volunteers there every week helping to restore planes and keep the museum running. … Before we began our work, one of the volunteers gave us an extensive tour of the facility, and it was great to hear the history of everything in that museum from someone so passionate about the subject matter."
Zachary Gnabah, of Canton, and his group spent a day repainting a dilapidated house in Canton. They worked with Hammer & Nails, a nonprofit Christian outreach center in Canton that strives to improve the quality of life for homeowners in the Stark County area.
"This project was certainly worth our time," said Gnabah. "Not only did we help with the painting of the house, but we got to help Hammers and Nails complete this project sooner, which allowed them to be able to move on and complete other projects for families in Stark County."
Avid mountain biker Bryan Truax, of Mansfield, and his group volunteered at Vulture's Knob, a mountain bike park in Wooster. The group cleaned up after a bike race and removed downed trees and branches from parts of the trail.
"I wanted to give back to a place that I've really enjoyed," said Truax. "They're solely funded by donations and private funding, so any volunteering creates a big impact. … I think creating projects that are not involved in students' schoolwork is highly beneficial. Being able to get away from the books and being able to engage in the real world is a great way to remind students that there are things much more significant than schoolwork."
---
Media contact: Alex Knisely, 330-972-6477 or aknisely@uakron.edu.