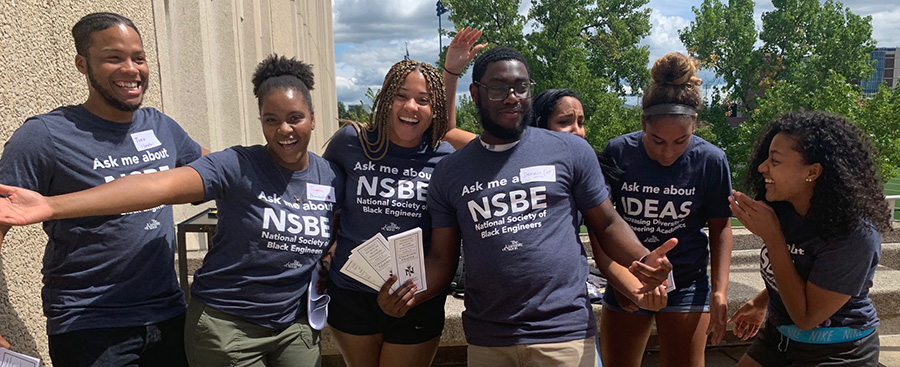 IDEAs Student Programs
From ice cream socials to Diversity Week and Black History Month events, the IDEAs Program helps students build their UA engineering community. Programming supports student success, creates professional development opportunities, and introduces engineering to K-12 students.
---
IDEAs Excellence Awards and other Scholarships
The IDEAs Excellence Awards were established by Miss Kaye Rowan in 2013 for the purpose of celebrating diversity and inclusive excellence. Miss Rowan was an Assistant Director at the Department of Development during her tenure at UA. This award is to honor students in the IDEAs Program for their outstanding academic achievement or exceptional leadership skills and community service. In addition, the IDEAs program is able to award many scholarships to deserving underrepresented students who are pursuing a degree in engineering.
IDEAs Study Center
Located in Shrank Hall North #353, the IDEAs Study Center is a room dedicated to students in the IDEAs program. It is a quiet place to study and meet with friends.
Diversity Career Fair and professional mentoring
We provide opportunities for students to advance their career objectives by connecting them to people in industry through diversity career events and one-on-one experiences with local engineers.
National Society for Black Engineers (NSBE)
As a member of the UA chapter of NSBE, students will have the opportunity to attend a national conference, develop leadership skills as a board member, and connect with professional black engineers around the country.
Society for Hispanic and Professional Engineers (SHPE)
THE UA chapter of SHPE is a student group dedicated to the professional development of Hispanic engineering students. Students can travel to a national convention, network with professional engineers, and gain access to opportunities to catapult their career upon graduation.
Ambassador Program
Specially selected IDEAs Ambassadors help ease freshman through their transition from high school to college while creating connections and providing advice that are so important to new student success.
RePlay for Kids
Throughout the year, students can volunteer on-campus fixing toys through RePlay for Kids, a Medina based non-profit organization. The toys are then given to area children living with disabilities.
Cultural events
Students can participate in IDEAs organized events for Diversity Week, Hispanic History Month, and Black History Month.
---
Related: