Five questions about our college, answered
What scholarships are available?
Last year, the College of Engineering distributed more than $250,000 in scholarships. Across the university, UA awards more than $13 million in scholarships annually. Students can apply for scholarships through The University of Akron or through the College of Engineering or both.
Learn about scholarship opportunities within the College of Engineering and through UA's Financial Aid Office.
What majors are offered through the College of Engineering?
The College of Engineering offers the following programs:
What kind of job can my student get with an Engineering degree from UA?
Graduates of the College of Engineering get jobs in a number of industries. We have links to more than 1,500 companies and government agencies throughout the United States. Each year, the College of Engineering hosts a career fair specific for engineering graduates.
Based on a survey knowledge rate of 98 percent of the college's Spring 2015 graduates, here are salary and placement stats: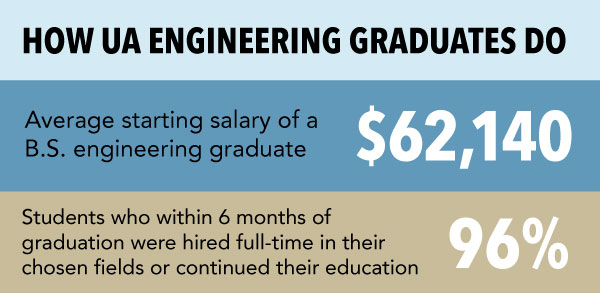 ---
What kind of support programs are available to help my student succeed?
From scholarship funding to mentoring programs with alumni to student organizations, students can get academic support in a number of ways. It's up to the students to take advantage of new opportunities to learn and meet fellow engineers.
The co-op program is a great opportunity for your student to earn money to support his or her education, get practical experience, and command a better salary after graduation.
How does my student apply for the College of Engineering?
Apply online to The University of Akron. Students are admitted to the College of Engineering based on academic achievements in high school and on standardized tests.