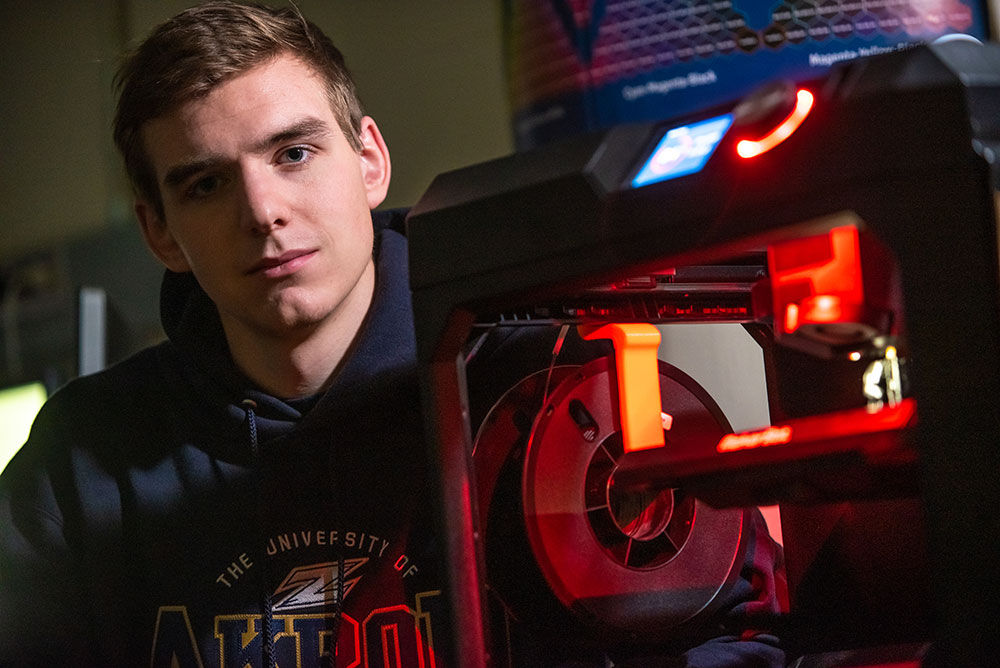 Most frequently asked questions from high school students about engineering
We regularly talk with students and teachers when we visit high schools across the region to share information about our engineering program. Below are the questions that we are asked most often. We have also consulted with students on our Dean's Team to ensure our student voice is represented in these responses.
What would current engineering students say their best advice is to succeed in college?
Go to class. Ask questions! If there is something you don't understand, reach out to your professor, teaching assistant, or a tutor to ask for clarification. Don't be afraid to ask for help. Become a well-rounded engineer by getting involved in student organizations, like Engineering Student Council or the Engineering Service Design Team. Get some real-world experience and try to set yourself apart from others around you by participating in the co-op program.
What skills are needed to be a successful engineer?
To be successful in engineering, you do not have to be a straight A student, you just have to be willing to put time and effort into your studies. Working hard will lead you to success in the long run. Curiosity, teamwork, passion, and determination are all important qualities companies want in an engineer.
What are typical minors of University of Akron (UA) engineering students?
UA engineering students can choose from a wide variety of minors, including music, Spanish, physics, pre-MBA, professional selling for engineers, geology, and creative writing. Our most popular minors for engineering students are applied mathematics, business essentials for engineers, chemistry, polymer engineering, and computer science.
How many years does it take to complete a bachelor's engineering degree?
Our engineering programs typically take five years with the co-op program. If you do not do a co-op, the program takes four years (but we highly recommend a co-op to get real-world experience and make yourself more marketable to potential employers). Over 90% of our engineering students choose to participate in co-op.
What type of jobs could I do in engineering?
The engineering field is so vast which makes it such a fun and interesting career! Different industry sectors include research, design, testing, manufacturing, sales, or quality control. You can design rockets, contribute to human health and the environment by developing a new way of reducing carbon emissions. Like roller coasters or tall buildings? You can build them! You can also go on to law, teaching, and medical school, just to name a few.
What is the outlook for engineering?
Engineers are always in demand and the need continues to climb. Civil engineers are #6 on the list of fasting growing tech and engineering jobs in 2018, according to the Bureau of Labor and Statistics, and mechanical engineers rank at #8. The average salary of a student with an engineering degree from UA is $62,140, and 94% of our engineering students find a permanent position within six months of graduation.
What is the average class size for upper level engineering classes?
Usually the upper level engineering classes range from 10-30 students, depending on the department and class. There are many opportunities to get hands-on experience through labs and workshops that are a part of the engineering curriculum. These experiences provide a personalized setting for one-on-one interaction with your professors and classmates.
What sets the University of Akron College of Engineering apart?
Not only do we prepare you for the real world, but we help you enter it. Starting your second year, the Engineering Cooperative Education and Placement Office will provide you with the tools necessary to acquire paid on-the-job experiences while in school, as well as permanent positions when you graduate. Students who participate in the program make on average $8,862 per semester.
When it's time for you to graduate, we work alongside you to help you secure a permanent, full-time position. UA engineering students have a 94% placement rate within 6 months of graduation.
Yes, our students study and work hard, but we also like to have fun. And we like to win. Students can participate in one of our award-winning design teams. Whether your interests are rockets or robots, race cars or remote-control planes, there are over 20 student organizations and teams to get involved with.
We're very proud of our research program in the college. Our engineering faculty receive an average of $1 million per month in research funding, leading to the development of new technologies, breakthroughs, and scientific advances that are a routine part of students' education (including underclassmen!)
Then there is the affordability factor. There are over 150 engineering scholarships available for bright future engineers in addition to the financial incentives offered by UA, such as the Akron Guarantee Scholarship.
What is the starting salary for engineers?
According to our recent polling of the class of 2017-18 engineering graduates, below are the ranges by major:
Aerospace Systems Engineering: $61,000 - $69,000
Biomedical Engineering: $50,000 - $65,000
Chemical and Biomolecular Engineering: $52,500 - $89,000
Civil Engineering: $36,500 - $60,000
Computer Engineering: $47,000 - $68,000
Corrosion Engineering: $65,000 - $92,000
Electrical Engineering: $45,000 - $72,000
Mechanical Engineering: $32,000 - $67,000
Questions?
Are you a teacher, student, or parent with a question about the UA engineering program? Or would you like to schedule a visit to our campus? Contact Becky Hartman, Engineering Recruiter, at rms45@uakron.edu.