---
School of Dance, Theatre, and Arts Administration Faculty & Staff Features
Explore UA DTAA Faculty Features
---
---
Meet Brian

Schultis, DTAA Faculty member and Director of our upcoming fall performance: The Waves
Stay tuned for information about the show and check out his interview below.
---
Brian
Schultis
---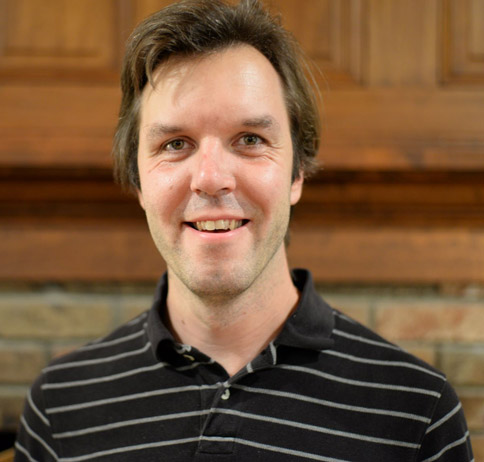 Bio:
Brian Schultis, PhD CLMA practices and researches performer training, embodied and performative relations to environments and materials, and embodied practice as a way of generating knowledge. He currently teaches theatre at The University of Akron and has also taught at The University of Kent UK, and Kent State University. He was associate director of Oberlin College Drama at Grafton Reintegration Center from 2018-2019. His doctoral research built theory around the work of Polish director Jerzy Grotowski in relation to practical research on performative meetings in relation to landscapes based on travel and transition. He certified as a Laban / Bartenieff Movement analyst in 2020. Brian was an apprentice from 2009-2012 with the Akron, Ohio based New World Performance Laboratory.
What performance/piece/professional achievement are you most proud of?
In the winter of 2013, I started an open-ended project called the Sojourner Project. A sojourn is a short stay in one place -- a stillness linked to conditioned by traveling. There were several components but the main one was regular adventures into the countryside of East Kent, UK, where I lived at the time with a group of performers. We wanted to use the tools of theatre to work at a long-term relationship with the place we lived. It was sometimes boring, sometimes transcendent, sometimes it rained, but it was the kind of deep interlacing of movement, everyday life, and human and non-human community that really excites me.
What are you most excited about to work on this semester (research, classes, special projects, etc.)?
Well, The Waves, but more generally: in January I finished a certification in Laban / Bartenieff Movement Analysis, which is a rigorous, multi-focal approach to looking at human movement. It's offered me a lot of new and exciting tools and approaches to work with, and this year I've been in the beginnings of integrating it into my artistic work, teaching, and research. I'm using it to coach actors in The Waves, teaching elements of it to aid analyzing performance in my Playscript and and Performance Analysis class, and building new research questions and methods with it. I can't see all the places it will go yet, and that's a fun place to be.
What was your gateway into the arts?
I could point to so many things, but a major one ... in third grade I had the chance to audition for a child role in a high-school play. I think my mom encouraged me to do it. I got the part and got to act with the "big kids." I was totally hooked.
What challenges & successes have you faced putting together this work for the virtual platform?

There's no substitute for embodied presence -- the energy, the complicity, the subtlety of response in the ensemble simply can't be replicated. The actors have to be really independent finding the creative impulse for themselves. But we can still support each other and be with each other in that independent work. There's a simplicity and beauty to watching the actors make the choice to fully engage their scenic presence even while sitting in their dorm-room with a headset on. No matter how difficult things get, the choice to make that leap is something that can't be taken away from them and to see them making it is inspiring.
What led you to choosing this particular work?
I knew from my first reading of Woolf's novel several years ago that I would like to work with it theatrically in some way. It's just such a stunningly beautiful text. As I thought of what made sense during a pandemic, what drew me back to it was the richness of the sensory lives of the characters -- all that they feel, smell, see, taste and touch and how it orders and influences their lives. That felt like a great starting point for a virtual production. Working on camera allows the actors to work on subtle elements that would be lost in a large theatre, and where interaction is limited, our individual sensory world is heightened. It also deals thematically with loss and life changes and their effect on friendship, and those feel like relevant themes right now.
What do you most want the audience to know about this production?
This play is overstuffed with images. They come fast and relentlessly, both visually and in the text. I don't think as an audience member you could ever "get" them all. That's ok. The places where your life intersects with those of Bernard, Rhoda, Jinny, Neville, Susan, and Louis -- the images you need to see and hear -- will find you.
---