Ways to Give to UA
Giving to the University is one of the most generous things a friend or alumnus can do. To support such generosity, we've made it as simple as possible to help you carry out your desire to give back. If you have questions or would like to speak to someone, please call our office at 330-972-7238 or feel free to e-mail development@uakron.edu.
Corporate Matching
Many employers sponsor matching gift programs. See if your company participates and have your gift make an even bigger impact.
Recurring Gift Plan for UA faculty and staff: credit card or payroll deduction
Working at UA has many rewards. Some take the opportunity to give back. Learn more about the Recurring Gift Plan and how you can make a difference.
Looking to mail in a check?
Please make checks payable to The University of Akron and note your gift designation in the memo line, and send it to:
The University of Akron
Department of Development
Akron, OH 44325-2603
Give online
Giving doesn't have to be time consuming or difficult.
Take advantage of our online form and within a few minutes, you can make a gift that fits your budget and supports UA's initiatives that are important to you.
Funds may be given to any area of the University or already established categories. Search our existing fund categories for more information.
Annual Giving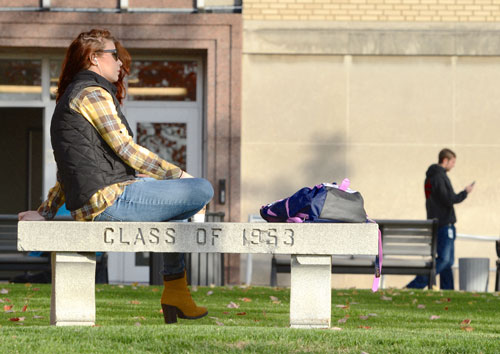 The University of Akron Annual Giving Program is the perfect way for alumni, parents, friends, faculty and staff to demonstrate their commitment to the University through annual support.
Every year, thousands of dedicated individuals contribute to the Annual Giving Program. Please join them by donating to the designation of your choice.
Outright gifts
These gifts include cash, online gifts, securities, real estate, personal property, gifts in kind and matching gifts. This is one of the most common ways our alumni and friends support UA.
Planned gifts

Planned gifts include bequests, life insurance, charitable gift annuities, charitable remainder annuity trusts, charitable remainder unitrusts, pooled income funds, life estate agreements, charitable lead trusts and revocable living trust agreements.
Endowments - A Handshake Across Time
Life's treasures - the dreams and causes we cherish most - often propel us to think about how they'll be cared for into the future. Now, generations can look across time, ensuring that their most important ideals live on. The support of education through endowments is one of the best ways, providing a "handshake of opportunity" from one generation to the next, a lasting impact felt long into the future.
You can establish a permanent fund making a lasting impact on The University of Akron. Gifts to endowment provide a consistent source of funding to the program of your choice.
All gifts to endowment are permanently invested with only the income used to meet your interests.
Endowments are established for many reasons: to provide scholarships to deserving students, to honor faculty or distinguished service, to memorialize loved ones, or simply to thank the University.
Your gift will support the University for many years to come.