Safety officer is first woman to run Ironman Triathlon in full firefighter gear
04/30/2018

We are all familiar with the term post-traumatic stress disorder, though we often associate it with the effects of war and violence. It's easy to forget that our hometown heroes encounter tragedy every day, and sometimes they also need our support.

Diana Woolf, full-time safety officer at our College of Polymer Science and Polymer Engineering, is fighting PTSD on the home front, and she is using an unusual tactic to bring attention to the cause.

"I will be the first woman in the world to do an Ironman and Half Ironman in full firefighter gear," says Woolf, whose work here includes the implementation of UA's Chemical Hygiene Plan and safety training for students and faculty.

An Ironman race is a triathlon consisting of a 2.4 mile swim, a 112-mile bike and a 26.2 mile marathon. Woolf completed a Half Ironman in Haines City, Fla., earlier this month, and is now training six days a week, either in Aurora or the Cuyahoga Valley National Park, to ready herself for full triathlons this summer and fall.

Woolf, also a part-time Highland Hills firefighter, plans to run the marathon portion of the races wearing turnout gear (pants, jacket, helmet, and tank). For her, the 37 pounds of gear symbolizes the weight of PTSD that many firefighters carry with them, but for which very few seek help.

"There are more firefighters killing themselves than dying in the line of duty," notes Woolf. "It's very difficult to see what we see. They're just now connecting it to PTSD. That's why I'm doing this — so the world knows that you can say it. Here I am saying, 'I have PTSD, but I'm still strong enough to do an Ironman.' You're not weak."

Woolf hopes to raise $25,000 for the National Fallen Firefighters Foundation (NFFF) to support Life Safety Initiative #13 for Psychological Support. The initiative aims to help firefighters recognize the symptoms of PTSD and gain access to resources for job-related PTSD management. More information about her charity, Rescue4PTSD, is available online.
---
► Story by Erica Cantrell
► Media contact: Lisa Craig, 330-972-7429 or lmc91@uakron.edu.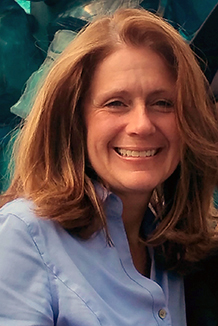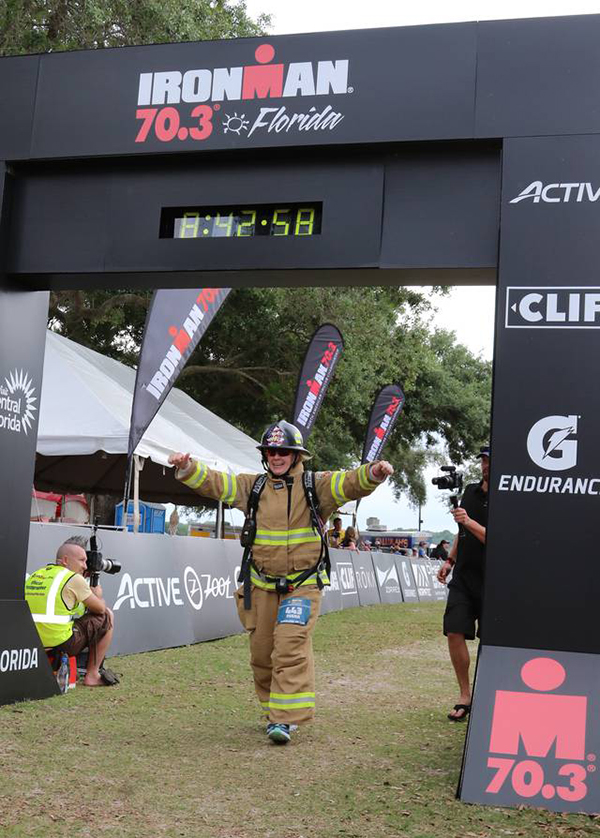 Diana Woolf, in firefighting gear, finishes Half Ironman.