Collaborative Research by UA Scientists selected as ACS Editors' Choice
10/10/2018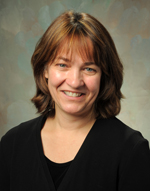 Dr. Coleen Pugh
Scientists from four departments at The University of Akron recently collaborated on research that was reported in an article submitted to ACS Publications. Not only was this article accepted in Macromolecules, but it was also selected to be featured in ACS Editors' Choice based on recommendations by ACS Journals' editors.
Dr. Dibyendu Debnath
Under ACS Editors' Choice, the article Determination of the Radical Reactivity Ratios of 2-(N-Ethylperfluorooctanesulfonamido)ethyl Acrylate and Methacrylate in Copolymerizations with N,N-Dimethylacrylamide by in-situ 1H NMR Analysis as Established for Styrene - Methyl Methacrylate Copolymerizations was sponsored for immediate, free open access by ACS due to its potential for broad public interest. This honor is given to only one article from the entire ACS portfolio each day of the year.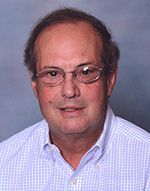 Dr. Bob Weiss
"It was very nice to receive this recognition for two reasons," said Dr. Coleen Pugh, Professor of Polymer Science. "First, this is an old area of research and is certainly not flashy. We simply offered a solution to a fundamental problem in polymer science. Second, it was a pleasure to collaborate with scientists at The University of Akron from four different departments, with my former Polymer Science graduate student, Dr. Dibyendu Debnath (now employed at Aramco Performance Materials in Ithaca, NY) leading the research and instigating these collaborations. We started working on this problem because Dr. Bob Weiss (Polymer Engineering) needed information on the sequence distribution of copolymers containing the two comonomer pairs for his work on polymer gels, which was the topic of Dibyendu's Ph.D. thesis; Dr. Jessi Baughman (Chemistry) was instrumental in establishing the conditions for the NMR experiments and solving the quantitation problem at short reaction times; and Dr. Sujay Datta (Statistics) analyzed the statistical significance of the data, which demonstrated the significance of the technique."
Dr. Jessi Baughman
Regarding the research, Dr. Pugh also stated "More importantly than reporting the radical reactivity ratios for two new comonomer pairs, as first established with a standard comonomer pair, it established an in-situ1H NMR spectroscopic method for determining reactivity ratios that is possible because of the compositional drift that occurs with copolymerization of comonomer pairs with r¹1, enabling the generation of data at hundreds of instantaneous comonomer compositions starting with only nine or ten experiments. The large number of data points across the entire possible comonomer composition range resulted in comonomer reactivity ratios with very low statistical error. It also established a method for retrieving quantitative data at very short NMR times when the instrument lock is apparently unstable."
Dr. Sujay Datta
Congratulations to Dr. Pugh, Dr. Debnath, Dr. Weiss, Dr. Baughman, and Dr. Datta on their collaborative work and achievement! Read more about their research here.