One of the largest technology transfer agreements in UA history signed with 21MedTech
01/30/2018

Two degradable polymer platforms, developed for regenerative medicine and 3D printing, have been exclusively licensed by 21MedTech from the University of Akron Research Foundation. The technologies originate from the Laboratory of Dr. Matthew Becker, a widely recognized scholar and innovator in organic polymer chemistry and biomaterials. He is the W. Gerald Austen Endowed Chair of Polymer Science and Polymer Engineering here.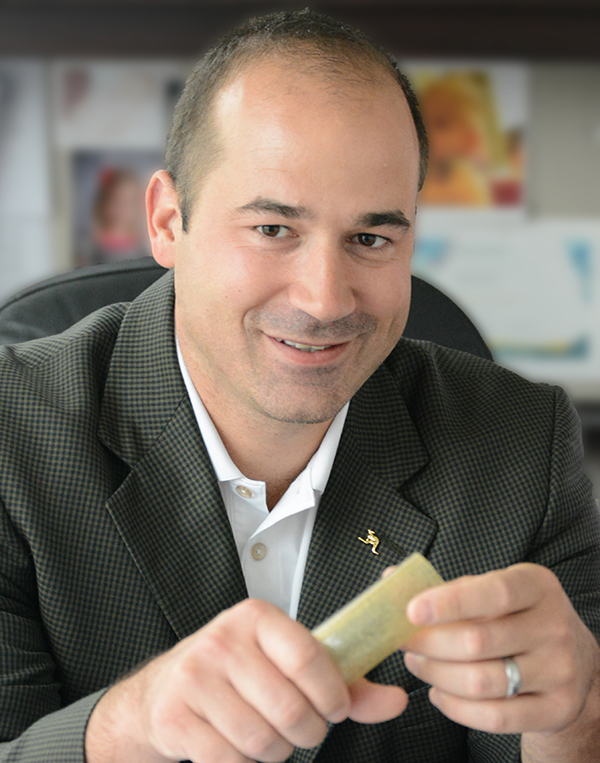 Dr. Matthew Becker
The proprietary technologies include unique degradable amino acid-based poly(ester urea)s and functional poly(propylene fumarate)s. The licensing terms, which were not disclosed, include upfront royalty payments, sponsored research and ongoing royalties. At its onset, the deal represents one of the most significant licensing arrangements by the University in its 148-year history.
Both UA and 21MedTech have ongoing research in the applications of these technologies in drug delivery and resorbable medical devices. The parties recently were awarded a $2 million grant from Ohio Third Frontier for a non-opioid postoperative pain therapy.
"It's particularly rewarding to see the translation of our fundamental research into therapies and devices designed to help people in such a vast number of indications," says Becker. "These are disruptive technologies and we are pleased to be working with the medical device and pharmaceutical veterans at 21MedTech."
Related:
► Akron Beacon Journal: Developing an alternative to opioids: UA professor's research gains $2 million state grant and interest of large drug company
► WEWS-TV: Polymer film developed by University of Akron research team could help fight opioid epidemic
► Scientific American: Engulfed in Opioid Deaths, Ohio Turns to Science
---
Media contact: Dan Minnich, 330-972-6476 or dminnich@uakron.edu.