International Elastomer Conference Features Several CPSPE & UA Speakers
09/15/2017

The College of Polymer Science and Polymer Engineering is actively involved in many facets of the polymer industry. Every year around 4,000 members of the polymer community gather to attend the International Elastomer Conference, and CPSPE will be heavily involved in the 2017 event in Cleveland, Ohio.

The conference will be held on October 9th until the 12th at the Huntington Convention Center. It is a great opportunity for educators and industry professionals to gather and exchange ideas and technologies, learn new things, and network within the community. It is part of the Rubber Division, ACS's vision to enhance science, technology, and business by bringing together professionals in the rubber and polymer related fields. This four-day event will consist of panels, presentations, poster sessions, a career fair, expo, and educational symposiums, including a full day dedicated to the "4th Advanced Materials in Healthcare Conference," which will have several speakers who are associated with CPSPE and UA. The expansion of the biomaterial and biomedical industries in Northeast Ohio, as well as throughout the United States, led to the "advanced materials in healthcare" addition to the Rubber Division Conference on the odd numbered years.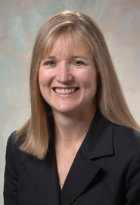 Dr. Judit Puskas, Department of Chemical & Biomolecular Engineering at UA, who helped to develop the conference, is the chair of this event. Chairing the "Education for Advanced Elastomers for Healthcare" session is UA's Department of Polymer Science alumnus and Research Associate Professor in the Chemical & Biomolecular Engineering Department Dr. Carin Helfer (pictured), who will be giving a talk on the "BEST Mentoring Program." The Akron Global Polymer Academy's content specialist, John Fellenstein, will be speaking in the same session with his talk titled "Bringing Advanced Materials into the Classroom: Shape Memory Polymers." UA President, Matthew Wilson, will greet the attendees at the start of the conference.
Dr. Critt Ohlemacher, Manager of the Akron Polymer Technology Services' Testing Division, will be co-chairing "Characterization Tools for Elastomers" with Michael Warner of CCSI, Inc. APTS will also be exhibiting at booth #1708, where attendees can come and learn more about APTS' testing, training, and processing services. They, along with all other faculty and alumni attending the event, will surely have a great experience at this year's conference, learning and sharing research discoveries, and making new connections.
For more information on the event, click here.