Dr. Xiong Gong recognized as winner of 2017-18 Outstanding Researcher Award
04/19/2018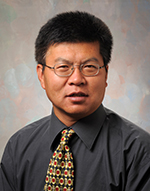 Congratulations to Dr. Xiong Gong, Professor of Polymer Engineering, who has been selected as the recipient of UA's 2017-18 Outstanding Researcher Award.
The University of Akron Achievement Awards celebrate the members of our community who make a difference, and the University is pleased to recognize the 2017-18 winners.
The University Council's ad-hoc Awards Committee reviewed more than 100 nominations from the campus community, and identified faculty, staff and contract professionals whose extraordinary contributions should be celebrated.
Through their teaching, research, and service, and through their commitment to the student experience, diversity and community relationship building, these individuals have made a difference to our students, our campus and our community.
Their achievements will be honored at The University of Akron Employee Service Awards on April 25, 2018.
Here are this year's award winners:
The 2017-18 Outstanding Teacher Award
(Faculty members with six or more years of service)
Juan Eduardo Contreras Barberena
Alfred W. Daviso, III
The 2017-18 Outstanding Teacher Award
(Faculty members with fewer than six years of service)
Isa Rodríguez-Soto
The 2017-18 Outstanding Adjunct Faculty Member Award
Heather N. Pollock
The 2017-18 Outstanding Researcher Award
Xiong Gong
The 2017-18 Outstanding Mentor Award
Deborah L. Owens
The 2017-18 Supporting the Student Experience Award
Meghan N. Meeker
The 2017-18 Community Engagement Award
Mary Jo MacCracken
The 2017-18 Exemplary University Service Award
(One winner selected from each category: Faculty, Staff, Contract Professional)
Frances J. Donatelli, Staff Winner
Julie E. Earle, Contract Professional Winner
Tammy A. Stitz, Faculty Winner
The 2017-18 Diversity Award
Greta A. Lax