UA distributes nearly $5.3M in scholarships to College of Business Administration students
12/04/2020
According to a recent study by lender Sallie Mae, families in the U.S. struggle to pay for college tuition without assistance. In fact, more than half of families take out loans to help cover the cost of college attendance, making scholarships and grants even more valuable. The University of Akron (UA) stepped up to help students in the College of Business Administration (CBA) by distributing nearly $5.3 million in grants and scholarships in the 2019-2020 academic year.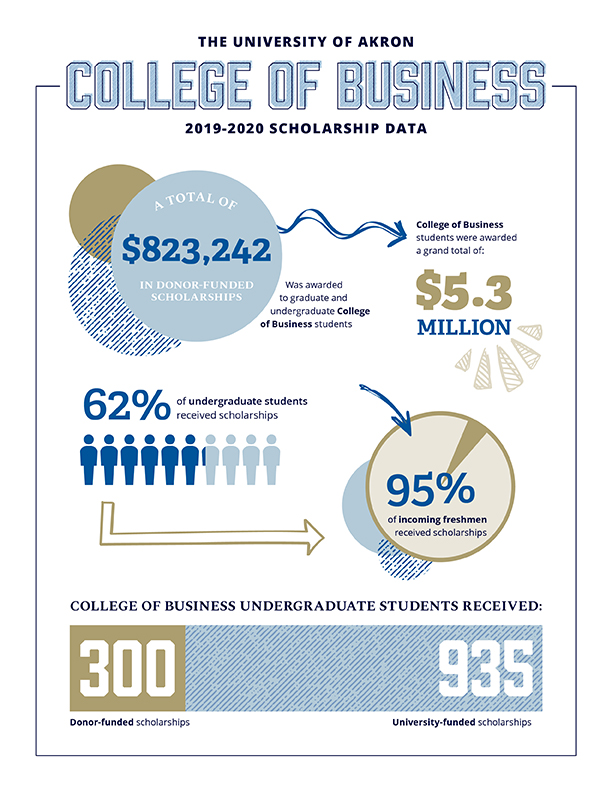 Scholarships and grant money come in many forms, assisting both undergraduate and graduate students in the College. The amount of scholarships and grants distributed to CBA students was amplified by more than 12.7% over the past year, increasing from $4.7 million in 2018-2019, to nearly $5.3 million in 2019-2020 to ensure that nearly half of all CBA students received some sort of scholarship or grant. The amounts represent actual disbursements to students and exclude athletic and third-party scholarships.
External donors were an important component of this year's student scholarship disbursements, with more than $823,242 donated to the College from outside sources, an impressive 25% increase over the previous academic year.
Helping to make college affordable for its students is priority of the CBA but is only one part of the value proposition it offers to students, says Susan Hanlon, interim dean.
"In addition to financial assistance, our students have opportunities to participate in study abroad, national student competitions, professional and student organizations, conferences, and to connect with the business community locally, nationally and globally," Hanlon said. "We have been consecutively ranked as one of the best business schools and we ensure that our students consistently have access to paid internships, valuable professional development opportunities and job placement assistance."
Click here to find eligible scholarships and application information.
---
Media contact: Cristine Boyd, 330-972-6476 or cboyd @uakron.edu.