2011 Honorees

Dr. Akhilesh Chandra, professor of accounting and director of the Institute for Global Business and the Center for Research & Training in Information Security & Assurance, has had his research published in numerous journals and proceedings. His primary research focus is to understand internal controls, governance and decisions using accounting information. He considers business research a crucial tool in informing the decision process, increasing understanding of accounting's role, and challenging us to consider alternatives for improvement.
Chandra also believes that while the research being conducted within CBA plays an important role in today's business world, the greater impact can — and should — be found in the classroom.
My class is enriched and enlivened many times over as a direct result of my research. I use my understanding of research issues to engage students to be critical, creative and innovative for personal and professional fulfillment, while contributing to their organizations and the society. Specifically, my research allows me to challenge students to identify and define accounting information and its role in every event, ask basic, simple questions, question assumptions and status-quo, examine current approaches, develop and consider alternatives, and understand why and how accounting is the common and most significant denominator in every event.
Akhilesh Chandra
Excellence in Teaching Award – Deborah Owens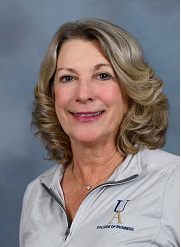 Dr. Deborah Owens, associate professor of marketing and international business, thoroughly enjoys her time in front of the classroom, where her teaching interests have centered on consumer behavior, marketing research, marketing strategy, and service and applied field-learning experiences. She hopes that students taking her classes will never look at marketing the same again. She strives to take the basic concepts of the field and give students real world examples so that the material not only makes sense, but also entices them to learn more and to seek out their own applications.
I am grateful for the opportunity to work with young people during a very impactful time of their lives, when they are making career choices, and other major life decisions. I enjoy watching them discover a passion for marketing, and a gateway to a rewarding career. On a more direct level, I love seeing a student when they have that moment, when the light bulb finally comes on, and the student truly gets excited about working on their marketing project, and is excited about presenting their results. Marketing is everywhere, and I hope to help students view it through a new set of eyes, in the hopes that they can become strategic in their own thinking.
Debbie Owens
Excellence in Service Award – William Hauser

Dr. William Hauser, associate professor of marketing and director of Suarez Applied Marketing Research Laboratories has, throughout the years, offered his time and expertise not only to the CBA and The University of Akron, but to his community as well.
Within the CBA, Hauser has been the college's representative on the UA Institutional Review Board, an advisor to the SIFE Student Organization, and a member of the CBA Undergraduate Curriculum and Marketing RTP Review committees. At the University level, he has served on the University Park Marketing and Communications Task Force and in an ad hoc advisory capacity to both the Institutional Marketing Department and E.J. Thomas Performing Arts Center. The community has also benefited from Hauser's service as a board member of the Leadership Akron Alumni Association and Victim Assistance Program and as the UA Faculty Representative to the United Way of Summit County's Neighborhood Leadership Development Program.
I feel that it is important to be involved in both the community and at UA, particularly the CBA, because both are integrally intertwined. Serving the community is, in a way, serving the University and vice versa. Hopefully, my involvement in the community positively reflects on the CBA and UA.
Bill Hauser