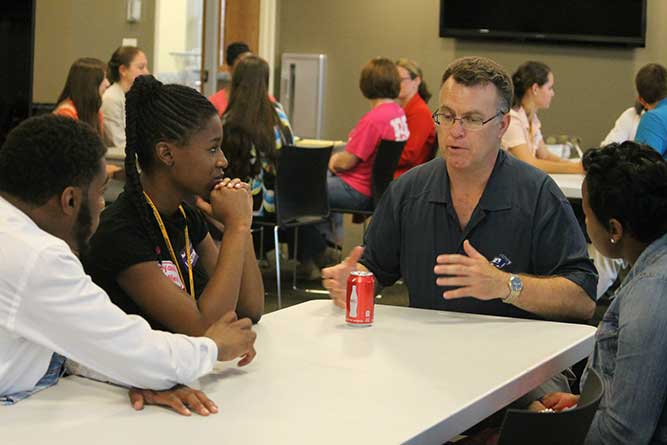 Leadership Designation Program
Our Institute offers students opportunities for high-impact learning through a comprehensive leadership program referred to as the Leadership Designation. Students will emerge from the program with more practice and leadership experience than the average college graduate, thereby increasing their ability to make an impact as a young professional.
Select from Three Options
Students may achieve up to three separate levels of distinction – Level I, Level II, and the Advanced Level, which includes additional awards and accolades. Each level is completed independently with no requirement to complete the next. However, each level must be completed in the appropriate sequence before moving on to the next.
Designation Program Levels
Level I – focus on personal leadership and ethical decision making
Level II – focus on interpersonal leadership, communication, and the team process
Advanced Level – focus on applying leadership skills with a real project leveraged with real funding

a. Advanced Level includes $1000 Leadership Fund and concludes with Dean's Award/Medal of Distinction.
How to Begin:
Complete a program registration form for each level (links below). Instructions are provided on each form. Registration is open to all students. New students should begin with Level I.
Level I Registration Form
Level II Registration Form
Advanced Level Registration Form
Advanced Level Registration Form should be submitted via hard copy to the Institute in 421 CoB or electronically to leadership@uakron.edu.
We Help You Plan:
Each level may be completed in 1-2 semesters.
Students will work with staff from the Institute for Leadership Advancement to map out a process for completing each level of the program. Students will be able to plan which courses and will see a calendar of co-curricular events. Appointments may be scheduled by calling 330-972-8115 or e-mailing leadership@uakron.edu
In this meeting, students, along with a staff member, will complete an individual plan using the "Individual Plan Guide". We will refer to the Leadership Designation Program "Leadership Program Selection List" for a list of academic courses and co-curricular offerings for each level, or appropriate substitutes.
How to Complete Each Level:
To complete each level, the student must refer to the appropriate "check list" for each level. The check lists are located below and also in the resource section. Students will submit their credentials for completion three weeks prior to completing the program. Approval is granted by the Director of the Institute for Leadership Advancement. Once approval is granted, the student may then elect to proceed to the next level of the Designation Program, if desired/applicable.
Level I Checklist
Level II Checklist
Advanced Level Checklist
Recommended Timeline for Designation Completion