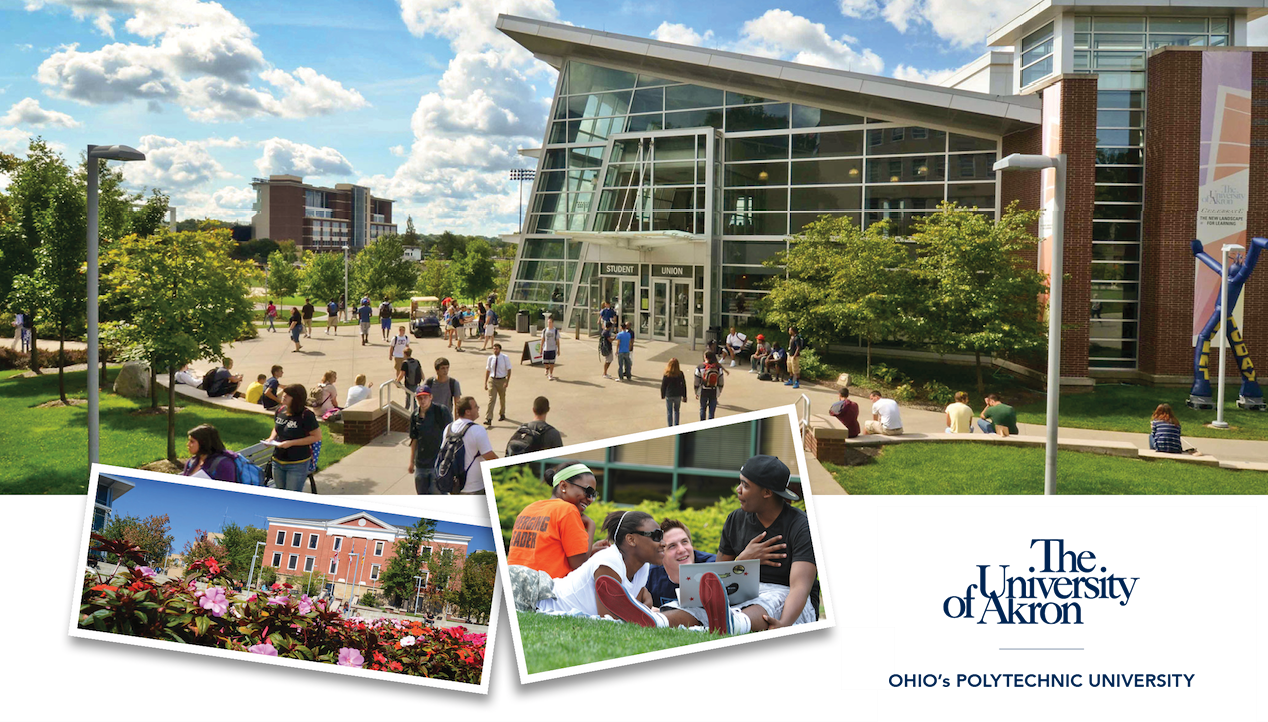 UA Parents and Family Association Newsletter
Welcome, Spring!


Website: uakron.edu/pfa | On Facebook: Zip Parents

---
In this issue:

Schedule fall classes now, pay later
Billing and financial aid for summer classes
Encourage your student to request summer and fall accommodation letters now
Residence Hall Move Out
Summer housing
---

Schedule fall classes now, pay later

Many students have already scheduled classes for fall 2015. Students were encouraged to meet with their advisor to determine needed classes and schedule on the date of their enrollment appointment found in My Akron. Those who wait risk not getting required or preferred classes/days/times.

For students enrolled in fall 2015 classes by July 31, the due date will be Aug. 10, 2015. Enrollment after July 31 is due on Aug. 31. Learn more about due dates.


---

Billing and financial aid for summer classes

The due date (to have made the payment in full or sign up for the payment plan) for the summer 2015 semester is Monday, May 18, 2015. See ways to pay.

The Free Application for Federal Student Aid (FAFSA) must be completed every year and should be submitted no later than June 1 to receive a financial aid award prior to the start of fall classes.
Financial Aid will be disbursed to your student's account Friday, May 8 for summer classes.
Remember: Your student has certain privacy rights on campus. The FERPA release allows the University to disclose information in person, or by phone, to individuals authorized by the student. The FERPA form can be found on our website. Otherwise, UA cannot share any unauthorized information, such as amount due, financial aid, etc.
A student can also authorize parent access to the eBill, Make a Payment and the Payment Plan signup through My Akron. Go to my.uakron.edu, enter the student's UAnet ID and password, click on "Student Center," then Finances. Learn more about due dates.
---

Encourage your student to request summer and fall accommodation letters now

Students registered with the Office of Accessibility who have completed summer or fall 2015 class schedules should log into their STARS accounts and schedule their letters of accommodations. Though letters are scheduled at the time they are requested, they will not be sent until the week prior to the start of either the summer session or fall semester. It is important for students to schedule accommodation letters as soon as possible — some accommodations have deadlines and require more time for coordination.

The sooner students request services, the faster the office is able to coordinate services. Your son or daughter should contact the Office of Accessibility at 330-972-7928, TDD 330-972-5764, or access@uakron.edu if assistance is required in requesting letters of accommodation.


---

Residence halls close after finals

The end of the semester is quickly approaching and students should be preparing to move out of their residence hall room. The residence halls close at 5 p.m. on Sunday, May 10, 2015, however, students should plan to vacate their rooms within 24 hours of their last final exam.

In order to avoid additional charges upon check out, students should ensure the room is clean, free of trash, and all assigned furniture present. If students have questions about damages, they should speak to their Resident Assistant. Once a student has completed removal all of their belongings and trash, the student should go to the service desk of their building to have a Resident Assistant inspect their room and turn in their key.


---

Summer housing

The Department of Residence Life and Housing is now accepting requests for summer housing. Students interested in living on-campus during the summer sessions are encouraged to apply for summer housing by selecting "Manage Housing" in MyAkron. Summer residents will be accommodated in the Exchange Street Residence Hall, at a cost of $36/night/person for a 4-person apartment, or $28/night/person for a shared single. Students must take 3 credits hours during the summer session(s) they wish to live in Exchange Street Residence Hall.

==============

For off-campus housing, short-term leases are available but normally cost an extra 10%-25% per month; those rates are not normally advertised online. Make sure it's clear and double check before signing a lease.

Another option is to see if any UA students are looking to sublease for the summer while they study abroad, complete a co-op or go home for the semester/summer. There are two places students advertise their subleases:

If you don't see something that meets their needs, students can always post that they are looking. Most landlords permit subleases but may require a small fee for processing the paper work or a background check, but some students will offer discounts for someone to take over a summer lease to help offset any expenses.


---



© 2015 by The University of Akron • The University of Akron is an Equal Education and Employment Institution.