Disney Imagineer says richness of time at UA made career possible
10/31/2013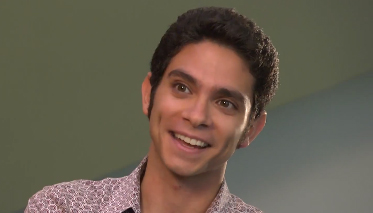 Snapshot: Mike Honeck

B.S. in Accounting, minor in Mass Communication, graduated in 2009

Currently: Walt Disney Imagineer

Mike returned to campus to speak to new students as part of UA's Honors Leadership Summit. About this series.
Mike Honeck arrived as a freshman on The University of Akron campus ready to learn — about everything!
Initially, the Buckingham Scholar majored in engineering, then explored other majors before choosing business as a career that applied across his many interests.
During his years at UA, Honeck was involved in several organizations and activities, from Emerging Leaders to Z-TV, where he learned to feel at ease on camera. He, along with several other students, even founded an organization. Akron Film+Pixel, a nonprofit that brings creative people together and exhibits innovative work, is today based at the Akron Art Museum.
"My major was secondary in my life," says Honeck. "What was more important to me was learning the things I was interested in. I did well in the classes, I wanted to do well in the classes, but I also made sure that I explored all the other avenues that interested me. As a result, I have a deep, specific skill set, and then a wide variety of interests and skills that make me valuable to an organization."
By the time he graduated from UA, Honeck's Akron Experience had shown him that his true passion was working in the creative side of the entertainment industry. So, he headed to Carnegie Mellon University to earn a Master of Entertainment Technology degree.
Now, as a Walt Disney Imagineer, he draws on his business acumen to lead projects, and manage budgets and schedules, and his creative side to work with artists and writers, and bring new ideas to life.
"I can honestly say that working at Imagineering is always satisfying, always challenging — in a good way, and the people are wonderful," says Honeck who works in research and development — the wing of Imagineering tasked with looking far into the future. "It's really just as good, if not better, than what I imagined it to be when I was a 12-year-old at Walt Disney World."
---
My Akron Experience
"Literally, every interest I had I could pursue here."
---
The Honors College
"I was able to build the education that interested me."
---
Fear Factor
"I see fear as a place where I found a deficiency I can work on, and hopefully, eliminate."
---
Life Outside the Classroom
"Outside the classroom is where the majority of college happens."
---
Disney Imagineering
"We develop the tools, techniques and technologies that are going to be interesting to people 10 to 15 years out."
---
About this series
As incoming Honors College students prepared to start their first year on the UA campus, they received sparks of inspiration from four honors alumni — all recent College of Business Administration graduates — who became more than their majors and found success on their chosen paths.
The four, who had all been all Buckingham Scholars, were brought to campus through the Honors Leadership Summit, which is a program hosted by the Institute for Leadership Advancement within the CBA. The institute, established in 2012 by a $1 million gift from The J.M. Smucker Company, promotes the development of leaders with the unique combination of knowledge, skills and principles needed to make an impact on their organizations early in their careers.
The alumni that returned to inspire, one each week, were:
Aniqa Feerasta, Amazon;
Mike Honeck, Walt Disney Imagineer;
Michael Modon, Google; and
Jessica Custer, MBAs Without Borders.
Capping off the series as keynote speaker was Richard Smucker, CEO of his family's company. He spoke about wise and ethical leadership.
In wide-ranging interviews before their presentations, each graduate talked about the value of his or her UA education. From mentors to motivations, from goal setting to overcoming fear, from campus involvement to studying abroad, each shaped an Akron Experience that made them ready for everything that has followed.
See what Aniqa Feerasta, Michael Modon and Jessica Custer had to say.