AKRON E-MAGAZINE
AUGUST 2016 ISSUE
Class notes
In Memoriam
Joseph W. Allen, BAED '52, April 25, 2016
Alfred L. Anderson, retired professor, Music, June 17, 2016
Barbara S. Beamer, BS '01, former student assistant, May 25, 2016
Nancy E. Blumenthaler, BSE '68, May 29, 2016
Jeffrey Bowdle, BSBA '02, April 27, 2016
Stanley L. Boyd, BAED '63, former research assistant, Education, May 20, 2016
Sandra S. Braden BA '74, JD '78, June 3, 2016
Stanley Buda Jr., AASSM '70, April 30, 2016
Christopher A. Butowicz, former director, Athletics, BSED '65, MA '75, May 13, 2016
David R. Chandler, MBA '73, July 10, 2015
John R. Chester, BSCE '50, May 22, 2016
Thomas R. Connell, retired professor emeritus, Engineering and Science Technology, MSEE '65, June 3, 2016
Jeanette, R. Cooper, BS '42, Feb. 12, 2015
Kimyata D. Cooper Jr., former student assistant, AA '14, BASW '16, May 18, 2016
James A. Crook, MBA '70, June 12, 2016
John Dakoski III, former graduate assistant, History, MA '02, June 11, 2016
Ralph T. Dean, BS '76, April 28, 2016
Kellie A. Dickey, BA '11, June 3, 2016
Alex G. Dompkowski, BSIM '73, MBA '76, Sept. 5, 2015
Mary Ellen Douglas, BSED '59, June 8, 2016
Mary E. Flanders, BA '37, May 1, 2016
Michael H. Freibert, BA '79, May 10, 2016
Joseph J. Frient, BAGSP '73, Sept. 12, 2015
Krimhild Hart, BS '81, April 30, 2016
J. Thomas Henretta, former lecturer, Law BA '68, JD '75, April 29, 2016
Barry M. Hertz, MS '73, November 3, 2015
Goran Ilievski, BS '15, June 3, 2016
Margaret M. Kainec, MSN '96, March 25, 2016
Karen L. Kilbourne, BA '62, BAE '68, MS '68, June 8, 2016
Heather Knepper, BSN '97, May 1, 2016
Margaret B. Knepper, former graduate assistant, Music, BA '05, May 8, 2016
Ronald L. Koby, BSIM '67, April 25, 2016
Walter Lehrman, retired associate professor emeritus, English, May 26, 2016
Ned J. Lindsley, PHD '99, June 3, 2016
Joseph C. Line, AAS '74, May 4, 2016
Michael P. Litka, retired professor emeritus, Finance, April 29, 2016
Shirley A. Lowrey, BSE '67, May 24, 2016
Marvin B. Luke, BSME '41, May 30, 2016
Barbara E. Mell, MSED '69, June 5, 2016
Jimmy D. Moles, BSCE '62, May 30, 2016
Orpheus Nurches, BA '41, MAED '47, May 11, 2016
Carol Olson, retired associate professor, Law, Dec. 27, 2015
Robert J. Otterman, former lecturer, Supervising Teachers, BAED '59, MAED '65, May 6, 2016
Gary L. Petersen, BSBA '70, May 5, 2016
Carole G. Pletzer, BSE '87, Jan. 4, 2016
Dreama S. Powell, BFA '77, June 6, 2016
Reba Price-Swartz, BSBA '93, April 11, 2016
Lana Rahe, BSE '79, April 22, 2016
Richard H. Rennick, BSIM '53, Dec. 7, 2016
Marilyn H. Roberts, MBA '73, April 12, 2016
John W. Salter, MSED '67, June 15, 2016
Richard L. Sapronetti, BSED '57, April 27, 2016
Rudolph J. Scavuzzo, retired professor emeritus, Polymer Dean's Office, April 24, 2016
Jeffrey S. Schiopota, BSIM '85, June 10, 2016
Cecil B. Shepherd, BSME '48, June 18, 2016
David R. Spessard, BSED '70, May 5, 2016
Alexander G. Thomas, JD '73, June 1, 2016
Mary Ann Traina, BSBA '63, May 9, 2016
David M. Turney, AAS '82, April 16, 2016
Neal D. Verity, JD '71, April 30, 2016
Alan N. Waxman, BA '77, May 12, 2016
Frances Wilkerson, BSED '58, June 11, 2016
David F. Williams, JD '60, June 5, 2016
Ethel R. Williams, AA '79, AAS '80, BA '81, May 25, 2016
Doris A. Wilson, BSN '55, April 19, 2016
Theodore J. Wilson, BSA '67, April 28, 2016
Michael D. Witwer, BS '95, MS '98, June 6, 2016
Patricia L. Yost, AAS '74, May 9, 2016
Jeffrey A. Youngberg, AAS '73, May 27, 2016
David G. Youngdahl, BA '69, BS '69, MA '74, May 9, 2016
Zips on Walkabout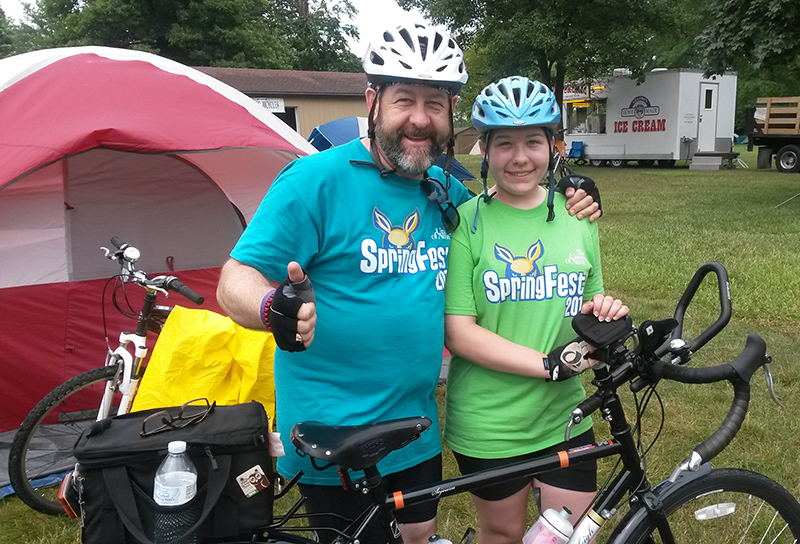 University of Akron Development Director J.D. Spinner and his daughter, Katy, show off their Zips pride in the midst of "GOBA 2016," a weeklong bike ride in Ohio. The Great Ohio Bicycle Adventure is a 250-mile loop held annually in June that attracts approximately 3,000 riders. This year's event was held in Southwest Ohio, beginning and ending at the Butler County Fairgrounds near Cincinnati with stops in Hamilton, Oxford, Eaton, Miamisburg, and Brookville. OF NOTE: Katy's identical twin sister, Margie, also participated but a minor accident prevented her from completing the ride.
Show us your Zips Pride!
Send photos of yourself in Zips gear – or your adventures with Zippy – to alumni@uakron.edu. Then, watch for the pictures in upcoming issues of Akron e-Magazine.
---
Also see
Akron e-Magazine home
Alumni news
The University of Akron
Alumni Association
---
Would you like to share some news?
Send us a note through Post your Pride and we'll include it for the next edition!
E-mail archives
---