Experiential learning opportunities benefit students and the greater Akron community
April 29, 2015
The Department has built strong relationships across businesses in our community. One continuing source of these strong industry ties is an English classroom — specifically — the Department's Technical Report Writing (TRW) classroom.
The TRW students of Kelly Webb-Bronstrup, an associate professor of technical writing and composition, spent a semester as members of various teams that create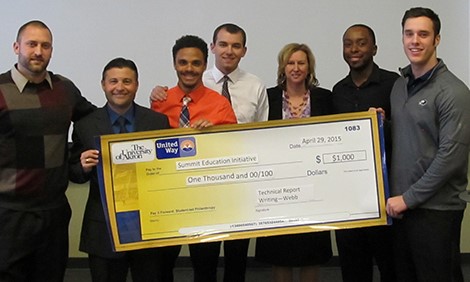 d brochures, and educational and promotional materials for the Summit County Historical Society, Freedom House for Women, Summit Education Initiative and Stewart's Caring Place.
The teams presented their service-learning projects to a panel of judges composed of community and University leaders as they competed to win $1,000 for a local nonprofit organization as part of the Pay It Forward student-led philanthropy program. The winning team, which worked on materials for learning kits for the Summit Education Initiative (SEI), is pictured above. They are, from left, Steven Holland, Matt Deevers (SEI), Taron Sloan, Kyle Hayes, Kelly Webb Bronstrup, Brandon Bell and John Lowry.
Students in the TRW course taught by Michelle Byrne, an assistant professor of technical writing and composition, have participated in various experiential learning activities. For example, some of them have visited Oriana House (a nationally renowned community corrections and chemical dependency treatment agency) to interview clients who need resumes to prepare for upcoming job searches. Byrne's students then designed, wrote, and provided printed and digital copies of the resumes so the clients could use them now, and then revise and update later, as needed.
TRW students also have worked in collaboration with NASA Glenn Research Center on three projects. Webb-Bronstrup oversaw a project where students designed and wrote a NASA brochure. The other two projects were completed in TRW sections taught by Webb-Bronstrup and Dr. Michael Johanyak. Their students designed and wrote a new NASA Glenn resume sheet that was shared with government officials in Washington, D.C., and revised NASA Glenn's official Wikipedia Web page.
---