---
LIFE Awards
The LIFE (legacy, integrity, fellowship, excellence) Awards are held
annually,honoring students, faculty, and campus organizations that
have demonstrated the LIFE values.
---
Applications for the 2017 LIFE Awards will be available February 1st through March 3rd on OrgSync:
All applications are due no later than 5:00pm Friday, March 3, 2017.
For a description of the awards please click here.
This year's awards include:
A-Key Blue Award*
A-Key Gold Award*
Alumni Association Student Recognition Award*
Club Sports Achievement Award (Individual/Team)
Creativity Award (Organization)
Diversity Award (Individual/Organization)*
Doctoral Scholar Award*
Exceptional Civic Engagement Award (Individual/Organization)
Faculty Engagement Award
Graduate Excellence & Leadership Award*
Intramural Sports Individual Achievement Award
Intramural Sports Team Achievement Award
Masters Scholar Award*

Outstanding Campus Advisor Award

Outstanding Officer Award
Outstanding Adult/Nontraditional Learner*
Outstanding Freshman Award*
Outstanding Sophomore Award*
Outstanding Junior Award*
Rupert Latture Memorial Award (Outstanding New Student Org)
Student Recreation Outstanding Student Member Award
Top 10 Senior Award*
Who's Who in American Colleges and Universities
*Requires a Letter of Recommendation
All applicants & nominators will receive an electronic invitation to the LIFE Awards taking place on Wednesday, April 19, 2017.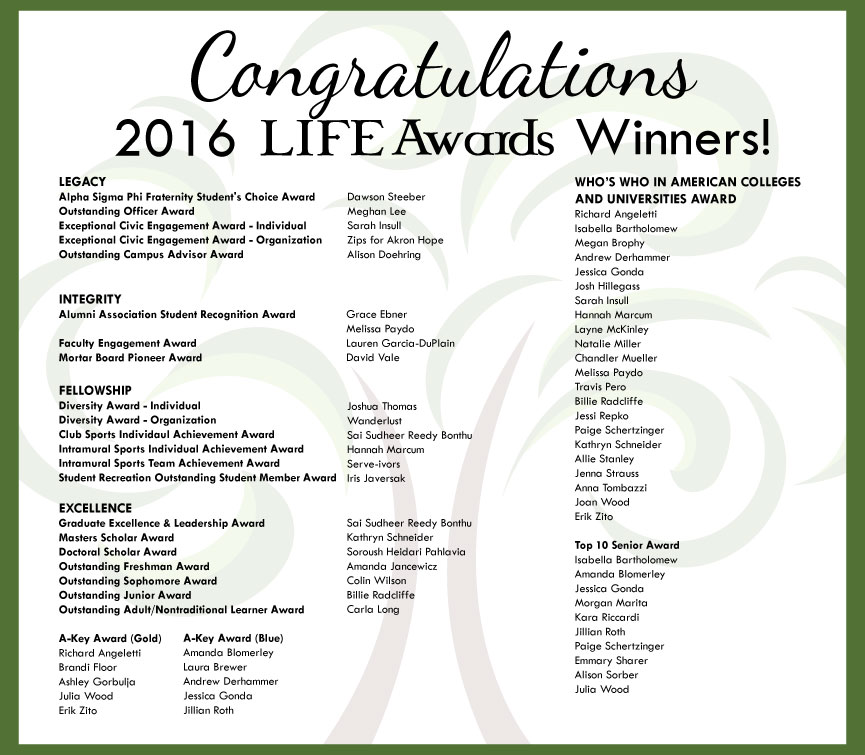 ---
Questions? Please contact lifeawards@uakron.edu for more info