Social Work Faculty News


US- China Social Work Education Workshop in Hangzhou, China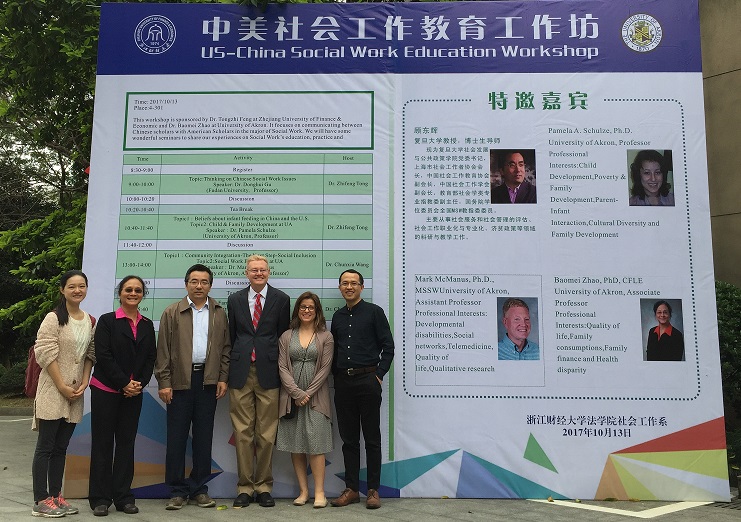 (Pictured in front of the conference banner with the workshop agenda and pictures of the keynote speakers: (L-R), Ms. Wu, Doctoral Candidate in Social Work, Dr. Zhao, Dr. Gu, Dr. McManus, Dr. Schulze, and Dr. Tong.)
The Zhejiang University of Finance & Economic Social Work Department (ZUFE) and the University of Akron, School of Social Work held its first US-China Social Work Education Workshop on October 13, 2017 in Hangzhou, China. The purpose of the full-day workshop was to develop communication links between Chinese and American to enhance educational collaboration in social work. Representatives from the University of Akron included Dr. Baomei Zhao, Associate Professor, Dr. Mark McManus, Visiting Assistant Professor, and Dr. Pamela Schulze, Professor, the Center for Family Studies
Dr. Zhao coordinated this event with Professor Tong in China and spoke on family, society, and policy. Dr. McManus presented an overview of social work education at the University of Akron and his research on community integration and development of personal relationships with individuals with intellectual disabilities. Professionals from community agencies, undergraduate and graduate students in social work, as well as professors from ZUFE also attended the workshop.



Dr. McCollister Presented at the
2017 NAADAC conference in Denver, CO
Dr. Melissa McCollister, Lakewood MSW Coordinator, presented a poster at the 2017 NAADAC (The Association for Addiction Professionals) conference in Denver, CO with Co-presenter Wendy L. Wheeler on September 22-24, 2017. Her poster was titled, "Using Strategies of Emotional Intelligence and Motivational Interviewing with Middle-Aged Lesbian Women in Recovery."

Middle-aged lesbian women who are in recovery from an alcohol use disorder often struggle with intense emotions when trying to develop a sober sense of self outside of their LGBT social identity systems. The social system usually involves complex relationships that may complicate the recovery process due to the interwoven layers of intimacy. In addition, research has reported an increased health risk among this population as they present with severe co-occurring mental health issues and trauma abuse histories (Murphy, 2015; Rowan & Butler, 2017).

This presentation was designed to provide attendees with a culturally sensitive approach incorporating emotional intelligence and motivational interviewing engagement strategies with middle-aged lesbian women in recovery from an alcohol use
disorder (Murphy, 2015).

Dr. Sang Published Research Articles in Peer-Reviewed Journals
Dr. Jina Sang, Assistant Professor, has recently published two research articles in peer-reviewed journals. Her article titled, "The impact of a child's cancer on father's relationship with his spouse" has been published this month in the Journal of Child and Family Studies, and her article titled, "Experiences of Korean mothers of children with cancer: A photovoice study." was published in the Journal of Psychosocial Oncology.

Her research interests are parent-child relationships, family stress, and mental health. Currently, she is collecting data for the Parental Alienation research project titled, "My child rejects me: Alienated parents from separated or divorced families."