Social Work Faculty News


Prof. Ellis Featured in Times Reporter
Prof. John Ellis, Professor of Instruction, participated in a Crisis Intervention Team (CIT) training on February 10, 2018 at the Tuscarawas County Sheriff's Office. He shared his expertise in mental illness and addictions with police, paramedics, park rangers, or jailers who may be encountering people in a crisis.

Prof. Ellis stated, "The folks that see people at the height of their symptoms are usually families and first responders. Law enforcement's going in blind. I've never seen one of my clients shirtless and screaming at me, but these guys have. I think society needs to realize, all of us need to realize, that first responders see the best of us and they see the worst of us."

To read the full story, click here.
Dr. Sang Presented at the Society for Social Work Research Conference
Dr. Jina Sang, Assistant Professor, presented at the 22nd annual conference of the Society for Social Work Research (SSWR) on January 14, 2018. This year's conference was held in Washington, DC, and its theme was "Achieving Equal Opportunity, Equity, and Justice." Her poster presentation was titled, "My child rejects me: Alienated parents from separated or divorced families." In her study, she investigated what alienated parents experience following separation or divorce. She noted that in high-conflict families, where there are high degrees of anger and distrust between parents, parental alienation may occur; that is, children turn against a parent. This study highlights the difficulties experienced by alienated parents as well as coping strategies they use to deal with their feelings and stress associated with parental alienation.

Dr. Sang's research interests are parent-child relationships, family stress, and mental health. Currently, she is collecting data for the Parental Alienation research project.
US- China Social Work Education Workshop in Hangzhou, China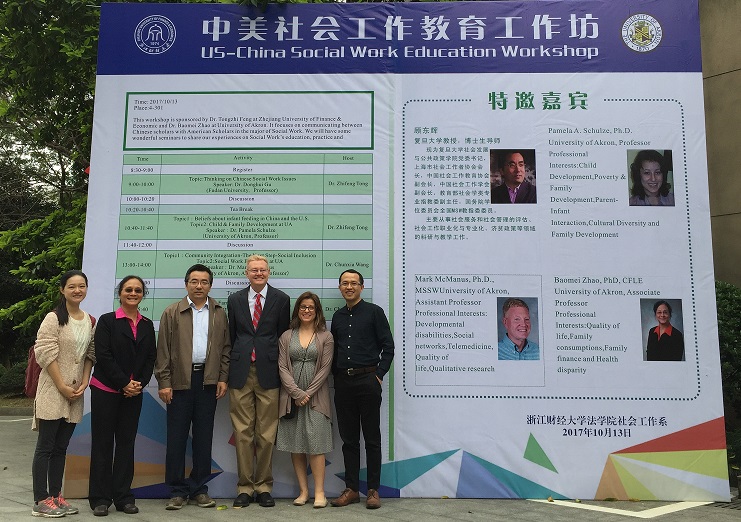 (Pictured in front of the conference banner with the workshop agenda and pictures of the keynote speakers: (L-R), Ms. Wu, Doctoral Candidate in Social Work, Dr. Zhao, Dr. Gu, Dr. McManus, Dr. Schulze, and Dr. Tong.)
The Zhejiang University of Finance & Economic Social Work Department (ZUFE) and the University of Akron, School of Social Work held its first US-China Social Work Education Workshop on October 13, 2017 in Hangzhou, China. The purpose of the full-day workshop was to develop communication links between Chinese and American to enhance educational collaboration in social work. Representatives from the University of Akron included Dr. Baomei Zhao, Associate Professor, Dr. Mark McManus, Visiting Assistant Professor, and Dr. Pamela Schulze, Professor, the Center for Family Studies.
Dr. Zhao coordinated this event with Professor Tong in China and spoke on family, society, and policy. Dr. McManus presented an overview of social work education at the University of Akron and his research on community integration and development of personal relationships with individuals with intellectual disabilities. Professionals from community agencies, undergraduate and graduate students in social work, as well as professors from ZUFE also attended the workshop.