The College of Business Administration (CBA) helps students get ready to make a difference through rigorous coursework and developmental opportunities that range from classroom consulting projects, internships, and professional networking, to leadership and business communication training.


What's Happening at the CBA

Although it had its first meeting only this semester, The University of Akron chapter of DECA (Distributive Education Clubs of America) is already making a splash in the DECA community. Three CBA students, Adi Rajiv, Andrew Barry, and Akron DECA President, Colton West, recently headed to Anaheim, California, to participate in DECA's Annual International Career Development Conference (ICDC), where West brought home Akron DECA's first of what are sure to be many competition awards. More than 1,600 students from 200 international collegiate DECA chapters gathered to take part in four days of competitions, workshops, and networking events.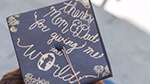 View a slide show of our graduates, their families and friends who shared photos and reflections from Commencement Weekend, May 12-14.

Karen Haefling, vice president of marketing for the Vitamix Corporation, will be presented with the Direct Marketer of the Year Award at Interaction 2017, hosted by the Gary L. and Karen S. Taylor Institute for Direct Marketing at the College of Business Administration on Friday, May 19. Haefling is being recognized for her work leading the marketing efforts of Vitamix and for her expertise in both the positioning and building of the Vitamix brand on a global scale.

A team of Kyle Flynn — Marketing and Sales Management; Julia Millinak — Marketing and Sales Management; and Sam Borick — Computer Science, advised by Robert Chalfant, Director of UA's Fitzgerald Institute for Entrepreneurship, took third place at the 11th Annual LaunchTown Entrepreneurship Awards. (Pictured l. to r.: Julia, Sam, Kyle, and Anthony Margida, LaunchTown Leadership Chair and Akron Global Business Accelerator president.)
Their company, HungerPerks, offers a fast food marketing app that uses geo-fencing to offer free food to people who take surveys from restaurants. The team received $1,000 for their Top-3 finish. Visit the product website.

The College of Business Administration's Master of Science in Accounting (MSA) program ranked 15th in the country in a listing of the best graduate programs in Accounting among public and private nonprofit universities. According to Online Accounting Degree Programs, UA has an affordable, flexible and accommodating approach that makes it a superior program.