College of Applied Science and Technology
Practical Skills. In-Demand Careers.
More success stories about graduates from The College of Applied Science and Technology
---
Cracking the code of college: Cybersecurity student rewrites and unlocks himself at UA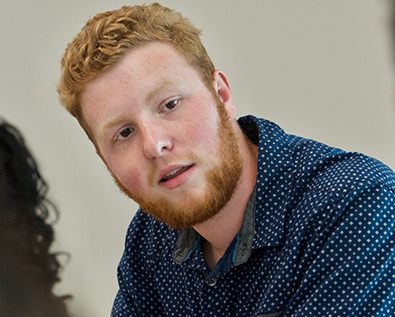 "Hackers" — those who delight in solving technological problems — spend a lot of time looking at computer code, often long repeating strings of 1s and 0s.
"Another number" is what Spencer Csaky, a self-described "hacker" (not to be confused with a cyber criminal), feared he would be if he enrolled at The University of Akron: one anonymous face among more than 22,000 students, streaming through campus like lines of impersonal code.
But there was a bug in the system — a surprise. Read more.
---
Surveying program again maps out a path to success
Our Surveying and Mapping Program has received its second consecutive Surveying Education Award from the National Council of Examiners for Engineering and Surveying. The award — presented Thursday — also came with a check for $10,000.
UA is one of only five schools in the nation to have won the award twice. Read more.
---
EMHS student in UA TV spot
---
Your Degree. Your Way.
We're making it easier for you to earn a degree or certificate by providing more evening, weekend, online, and combined programs that fit your schedule. Learn about our in-demand degrees available evenings, weekends and online.